So, the other day I decided that I needed a new, larger, hard drive for my PS3; and seeing that the price of 500gb drives had fallen to a point where it was a 'no brainer' I went and purchased one from my local PC World. Incidentally I only ever go to PC World for impulse buys – I cannot stand the place. The staff are on a par with those that work for Comet, and as one of my close friends puts it, people who work at Comet are those that couldn't get work at Currys, and that's not saying much. Anyway, I digress (I recently had a bad experience buying a cooker from Comet and have an axe to grind!) will refocus on my Hard Drive, all 500 gigs of it.
When I got home I was very excited about the idea of all this local storage in the PS3. In our household we use the PS3 for everything from games, DVDs, pictures, music, and we own PlayTV which records video in a file format designed to eat drives whole. So I figured that after my downloaded games, the new drive would offer around 200+ hours of tv recording, plus room for the new download store coming out in November.
I took out the existing 60gb drive and took a screwdriver to the screws holding the drive into the caddie. I'm not too sure what form of putty Sony make their screws from, but the screw heads simply dissolved and I ended up exerting so much pressure on the flimsy metal that the actual caddie snapped with the drive still in it! So now I had two drives, one stuck in the broken caddie and neither able to go into my PS3. I had gone from 60gb, to the promise and temptation of 500gb, to actually having 0gb and a PS3 that would not do anything.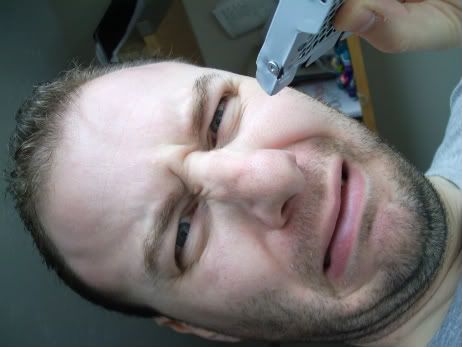 I called Sony Playstation support. Now I know that the BBC and others have recently attacked their support plans, but Ill say here and now that they were excellent. 'No problem', they said, 'well send you another caddie for the new drive', and they did. Around 5 days later it arrived, for free, with new screws too. I inserted the 500gig drive, formatted it and then transferred the backup I had created of the 60gig drive onto the new drive. Everything was fine, so I deleted the backup to free up space on the external drive.
2 days later whilst at work I get a call from my wife telling me that the PS3 is not working. She isn't a gamer but is instead trying to show our wee girl High School Musical 3 on it. If anything is going to make the PS3 stop working, that film is. I got a garbled, non technical message about something which sounded like a flashing yellow light, followed by a flashing red light on the PS3.
High School Musical had killed my PS3!
I called Sony again. My machine was out of warranty (it's my second one, with the first already being replaced under warranty, when it went wrong after a firmware upgrade) so they would charge the £128 plus VAT. I pointed out that it was 'just' over a year old and one should not expect something like this to stop working the moment it goes over the 12 months mark. Hence, I paid but pointed out that if this one stopped working within 14 months I would expect some slack from them in future. Supposedly they put these on my 'notes' but my view is Im hoping it won't happen so I won't need to find out if they are going to be sympathetic or not. Whilst all this happened, Uncharted 2 was released, arrived early at my house and sat there looking sorry for itself.
Anyway, 2 days later the new machine was going to arrive at work, and they would take the old one away. However the screw holding the new 500gb drive and caddie in the broken PS3 decided to follow its brethren and melted at the touch of my screwdriver! I now had a problem that Sony were going to take my broken PS3 with my new 500gb drive which I had just bought! Luckily there is a car audio/electronics place near my office and they had the technology and knowhow to get it out scratch free. Phew.
The old machine was collected, the new delivered. I went home and put the 500gb drive in the new one. The 500gb drive had all my old data on it, but the new PS3 insisted on formatting it. I had lost all my save games! Downloads I don't care about as they can be downloaded again, but my save games!! I'm now totally down, as I still play many of my older games and only recently completed Batman, but was still looking for all the Riddler 'things' for Trophies. I realised that I had deleted my backup when I had first transferred the content to the 500gb drive!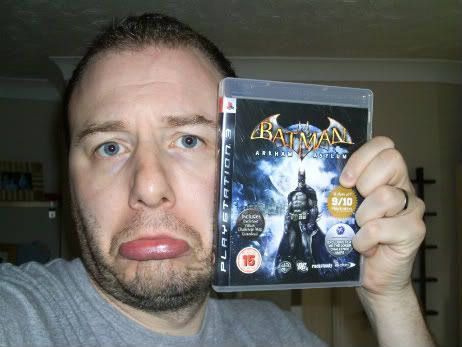 Lucky for me I still have my very old 60 gig drive which was stuck in its caddie. I have since been able to get the drive loose of its screws and have a plan. Im going to get a 2.5 inch chassis with USB connection and see if the PS3 will recognise it externally. I have no idea if this will work, but if it does I might be able to copy across my save games.
Why can't Sony just allow us to upload our save games to their servers, similar to Apple's Idisk? Id pay for that you know, similar to Xbox live. I could store save games, and more if it allowed. Why Sony has to insist on formatting a drive that is already formatted for a PS3 just for copy protection reasons is beyond me. Surely for every crook they fail to stop hacking their system (as they always find another way) all they have done is annoyed and failed to service me, a paying 'kosher' customer! They allow me to 'synchronise' and in effect upload Trophy data – how hard can it be to include Save Game data with that process?
If anyone has any better ideas on how I can get access to my save games please leave a comment below! Im currently one grumpy gamer. The lesson, until Sony allow us to upload save games, is to regularly backup your PS3 drive. And then don't delete the backup!
Also don't put High School Musical in your PS3. Or even allow it into your house.