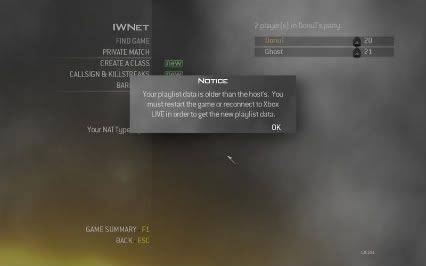 When Infinity Ward first announced IWNet there was uproar in the land of PC gaming. Dedicated servers have been the focus of PC multiplayer gaming for many years, with communities being formed around them. When the latest mod or custom map pack is released, dedicated servers always spring up to support and expand the game from its native iteration, allowing a degree of customisation and democracy that console games still lack. I personally was not particularly happy about the change, being the kind of person who likes to find a few good servers with friendly people on them and adding them to my favourites. But, it wasn't enough to put me off buying Modern Warfare 2. As long as I could still play with my friends and as long as the matchmaking was fairly hassle free, I'd get by.
Unfortunately at the time of writing I can't play with my friends, in fact I can't play at all. After browsing several communities and forums trying to find the answer to my own particular technical quandary (when I try to play the game, I get a message saying "Connecting to IWNet" that never disappears), I came across a slew of angry PC gamers, suffering from so many different issues that it would be almost pointless to attempt to list them for you here. The latest complaints include the accusation that it's possible to have your PC infected by a Trojan through the service. I have no way of determining whether or not this is true as my virus scans haven't indicated any issues. But if it is true it only works to further condemn IWNet as one of the most bug ridden and insta-hated services ever released for a game. The acidic bile reserved for Infinity Ward's latest has infected every corner of the internet, with Amazon and Metacritic user scores reflecting the experiences of frustrated PC gamers.
Lets zip back to October 20th when the online petition for Dedicated servers was in full swing. Infinity Ward's Community Manager Robert Bowling defended the new service on his blog, with a number of key points about how IWNet would improve online play for PC gamers. Lets take a brief look at each of these points and see how well they've stood up post release (quotes in italic).

"Matchmaking & Smoother Gameplay. All you have to do is select the playlist (pre-set gametypes with custom rules) that fits the style of play you are in the mood for. When you do, it will automatically find you a game with the best performance, ping, and preferences based on your location and individual connection as well as matching you with players of your same skill."
How does this work in practise? Not very well,. The issue with PC gaming and why there needs to be servers dedicated to hosting is that PCs aren't like consoles, they're not mass produced automatically compatible pieces of hardware. Each PC differs massively, whether it's the OS, the router, the firewall or one of the many other different components that forms each PC; they're not just going to connect and get along. This is reflected in the matchmaking. For some people, ports need to be opened so they can host, for others their NAT type will preclude them from playing with friends. For the rest of us, weird issues about not being able to connect to the host, or being unable to resolve will occur with alarming regularity. It's essentially pot luck as you're tossed around from lobby to lobby, hoping against hope that this time you'll get in with no problems. Even if you do, there's a chance that half the other players will time out or crash before entering the game. If you're going up against a clan for instance, you may find that one of them will drop, meaning the rest of them will immediately leave the match. For some reason the option to change teams is greyed out on most game modes meaning the game is essentially ruined and it's back off to the lobby with you!
"Playlists and Private Matches. As I described above, Playlists are pre-set game modes and gametypes for public games. If you just want to jump into a public game of Search and Destroy or Hardcore Search and Destroy and you don't care about fully customizing it, then you can utilize playlists to do that quickly for you. However, say you're in a clan and you want to play a Clan match with another team, or you want to practice for an upcoming tournament that has specific rules in a private game. Then you can start a Private Match (which is essentially like running your own private server) where you have complete control over the rules, who can join, boot players you don't want, and essentially control the entire game or tweak it to your liking."
Well yes, except you can't have a clan server up 24/7 that allows your players to drop in for a game, let some friendly pubbies in to practise against or anything of that ilk. Instead you'll need to plan ahead and whilst there are some interesting options to tweak, there's still no option for say map rotation or entirely custom rules.
"Cheat / Hack Free Games: The biggest benefit of using IWnet by far is the fact that you don't have to worry about joining a server full of aim-bots, wallhacks, or cheaters. Or relying on the server admin of the server to constantly be monitoring, banning, and policing it."
Challenging tech savvy PC gamers and admins is like prodding a sleeping giant with a small but annoying pointy stick. It will alert them as to your presence and then they'll stand up and squash you. Hence why it took all of 3 days for PC users to find workarounds using the console. Click here to see the amusing results.
The only one of the four points Mr Bowling made which has stood up to scrutiny is that the friends list does work. However it's slightly defunct if the game refuses to connect to IWNet in the first place because of port forwarding or NAT issues. But if I were Infinity Ward I'd take this as a minor victory, because at least it sort of works, as long as everything else is running smoothly.
But broken promises and disgruntled gamers aside, perhaps the most galling thing about this mess is the overwhelming silence. There was a patch released shortly after the game hit peoples hard-drives with the explanation that it "Improves the matchmaking service". To which I replied "Bloody hell, how bad was it before the patch?" But minor patch aside, nobody has heard from Infinity Ward on the cavalcade of issues. Activision's tech support has been limited at best, with most suggestions falling under: reinstall, replace your CD, or check with your ISP. Whether the silence is because Infinity Ward are currently all taking turns to dive into a gold plated swimming pool filled with money, or because they're working hard to fix the service remains to be seen. One thing's for sure, the people who spent their money on the game are angry and I'm pretty angry too.