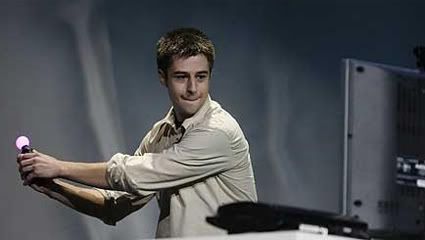 Sony's adventure in to the stick waggling, motion controller world with what appears to be two wands with big colourful heads might turn out to be called 'Arc.'
This all came from VG247, stating the news came from a concrete source under the strictest anonymity. Shedding absolutely no light on this whatsoever, Sony Computer Entertainment Europe has said that 'We don't comment on rumour or speculation'.
There is still no official news on what the name is, other than the now scrapped, previous codename, Gem. This means that until we get a solid confirmation, our fingers will have to strain that bit more and just call it PS3 motion controller for the time being.
Other PS3 motion controller news that came in today is that the system will be released in autumn 2010, 'to offer an exciting and varied line-up of software titles that will deliver the new entertainment experience to PS3 users' according to Kazuo Hirai, President and Group CEO of Sony Computer Entertainment.
There is still plenty of time between now and autumn, so we are hoping for a flurry of great looking games to be announced for it in the near future. Maybe it will be the jewel in Sony's crown at E3 this year?