Microsoft took a note from Steve Jobs at last week's E3, announcing that the new Xbox 360 S would begin shipping to stores immediately. This new iteration sports a 250 GB hard drive, built-in Wireless B/G/N support, and a sleek, lighter design. The console arrived in stores late last week and our staff writer, Joe, got his hands on it. Here's his breakdown: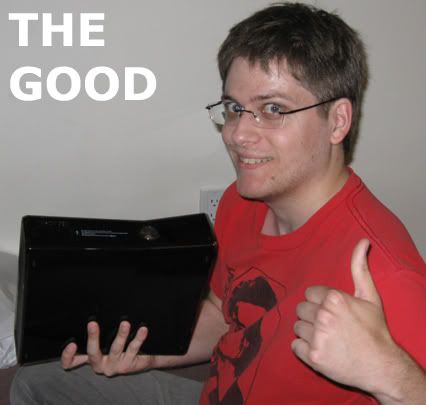 The Design – I have to admit, when I saw the new Xbox 360 at E3 I was more excited by the features than the design of the console itself. It looked like the old 360 with a fresh coat of glossy black paint, sucking its gut in. But when I saw it in person I was much more impressed. It's damn sexy, and compared to the garish, toy-like design of the original 360, it's now closer in style to the more sophisticated Wii and PS3 designs.
Finally, a Fair Price – For a while, the 360 was cheaper than the PS3 – that is, unless you wanted wi-fi or a decent-sized hard drive. Prices on the wireless adapter and larger hard drives were out of control, running the 360 well above the cost of a PS3. Now, with everything built in, they're basically on even footing.
It's Quiet! – This is only a big deal if you still own one of the early 360 models – you know, the ones that sound like a jet engine? The difference in noise between the Xbox 360 S and say, a current Xbox 360 Elite is negligible. Though it is still technically quieter than all previous 360 models.
Fancy Buttons – Okay, this is the new Xbox 360's bit of je ne sais quoi. The eject and power buttons are touch sensitive rather than mechanical. It's completely flashy and unnecessary, but it's got that futuristic flavour that was lacking in previous models. The associated chime noise is something that's going to become ubiquitous with the new console.
What is Backwards Compatible – Any old Xbox VGA cables, component cables, or HDMI cables work with the new Xbox 360. I was a little worried they were phasing out VGA support (one of the 360's coolest features), but the newest model still plays well with just about any TV or monitor you've got.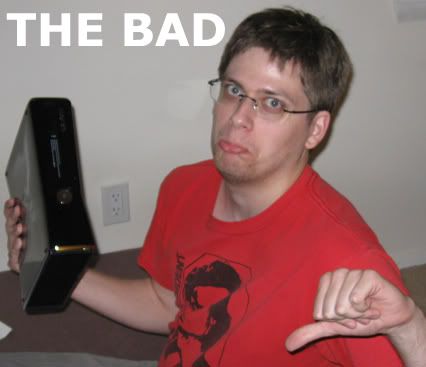 What isn't Backwards Compatible – Memory unit slots are gone, but then again they should have never been there. The USB memory support they've added in the latest dashboard update should have been the standard. The only problem now is that anyone who totes their XBL profiles around (like, most of my friends) does so on a memory card. If you're in the same boat I am, you may end up being the jerk on the block who makes everyone buy thumb drives.
It's also worth noting that the new 250GB hard drive is still removable, but incompatible with the old 360s.
The Design Doesn't Go All the Way – The new Xbox 360 is a marvel compared to the previous iterations. The touch-sensitive buttons and glossy black give the console an air of elegance. But a bit of that sophistication is lost when you watch the plastic disc drive fumble its way along the rickety track. The chintzy wireless-sync button and USB-port door don't do it any favours either. Microsoft should have gone the extra mile to complete that last bit of the look.
License Transfer Madness – If you're moving any data over to the Xbox 360 S, it should work fine as long as you're online. Purchased content is tied to both your gamertag and the original console you purchase it on. If you decide you want to reassign the license to your new console (for offline play), the process is relatively simple. Xbox.com/DRM has all the instructions, and for most people, the process is only going to take a few minutes.
I'm not most people. You could call me a power user – I've downloaded dozens of Rock Band songs and hundreds of XBLA games, Xbox Indies, and game demos. All told, my profile contains data on 1,376 unique licenses. The process of reassigning all of those licenses one by one literally took me hours. On top of that, every time I return to the dashboard it takes 1-2 minutes to re-populate my games list. This is more of a problem with the dashboard, but it's something Microsoft needs to address soon if they're providing everyone with 250 GB hard drives.
Verdict:
The new Xbox 360 is what the console should have been from the start. Upgrading to this version isn't necessary, but anyone who does so won't be disappointed. If you've refrained from buying an Xbox 360 until now, this is absolutely the one to get.