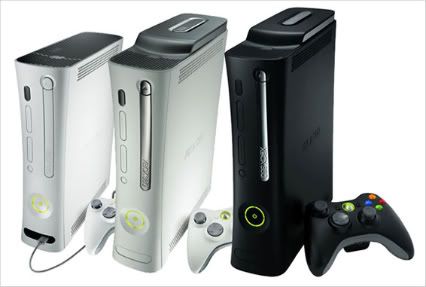 I got a 360 at release, and I loved it… to begin with. Three years, five RRoDs and two consoles later, I'd finally had enough. I had nothing against the console per se; my problem was with the fact that Microsoft had clearly rushed an unfinished, unacceptably unreliable product to market. Initially – many people choose to forget this – they even denied that there was a problem at all. The number of consoles crashing was "a small minority" that was no more than "normal" for a new machine. They would see no more of my money, I cried! Damned if I'll even consider their next console, I declared (much to the consternation of the people around me at Sainsbury's).
But I've finally relented. I've asked for a new fangled Xbox 360 S for Christmas. Why?
There are two possible explanations, I think. The first can be told in no less than 12000 words, and begins with me lamenting the fact that my soul is little more than a torrential state of avarice. I'll gradually work up to explaining how David Hasselhoff really does deserve more credit for the part he played in the fall of the Berlin wall, the true meaning of Christmas, and several suppressed childhood memories that would be unleashed by the end of the article. The second explanation is the one I'll go with today, however.
The good news is, it's literally impossible for my new 360 S to get a RRoD. The bad news is that this has nothing to do with the problem being fixed; Microsoft have just changed a lightbulb. Several times since release, it's been claimed that the latest version of the 360 has fixed the RRoD issue. 'It doesn't overheat so easily now'. 'We've moved the processor'. 'Everybody in the factory wears a magic hat' and so on. The truth is that while the problem seems to have become less inevitable, it's never going to go away.
Still, now I'm aware that I can claim free repairs for RRoD even when the warranty expires. Here in the UK we have something called the Sale of Goods Act which covers many items, including electronics, for six years from purchase. If you can prove that the problem you have with the product was present when you first bought it (easy with a 360), you can harass the retailer until they give you a refund or arrange a fix free of charge. For example, when I bought a Stereophonics album, I managed to get a refund by proving that the music on the disc was shit when I first purchased it.
I must stress that this is only valid in the UK. If you live elsewhere in the world and your 360 implodes after the warranty expires, your best bet is to burn an effigy of Bill Gates on your roof and offer your supplications to Winnie the Pooh. Well, it's more likely to get results than asking Microsoft to fix your out-of-warranty console for free.
In all seriousness though, I've always remained platform agnostic. I gave up on PC gaming a long time ago – too complicated and expensive for a proletarian simpleton such as myself to keep up with – but I've often looked on with envy at PC games I'm unable to play. Similarly, there have been many 360 exclusive titles that I've dribbled over longingly since abandoning the console. Now I'll have a chance to catch up with them – and mostly at a bargain price.
Right now, I'd comfortably fit into the 'PS3 gamer' pigeonhole. I also own a Wii, DS and PSP (plus some retro consoles), but I spend the vast majority of my gaming time on Sony's console. How much less time, I wonder, will I spend on my PS3 when I have my 360?
I imagine it'll come down to considerations of online play. I now have a long list of online friends (though I only tend to play with a small number of them) for my PS3, but some of them have 360s as well. In addition, I know people in The Real World who have 360s but not PS3s, and vice versa. There's one more thing to consider as well, from my point of view; the Xbox Live Gold subscription.
That was another big reason for me to avoid going back to the 360. I've never used Xbox Live. First of all, this was for the very good reason that I didn't have an internet connection. When I eventually joined the new millennium however, I was frustrated and angry that Microsoft were charging for online play when Sony weren't. It seemed especially bizarre given the then – widespread RRoD problem; like an angry tramp charging you £30 to break your mobile phone.
I've had people I know personally, who have used both PSN and Live, give me differing opinions. Some say that Live is far and away the best service, while others say that they actually prefer PSN. I'll form my own opinion rather than wear somebody else's, but I expect my money's worth – which is why the subscription will factor in to my game purchases. I don't want to pay forty quid for the privilege of a year of online play and then not make use of it.
One thing I've never been able to deny, even at the height of my anger with Microsoft, is that the 360 has the better controller of the two. This is because a) it has lots of pretty colours, and b) it's comfier to hold and use, with better thumbsticks. That said, its use of AA batteries seems somewhat antiquated next to the PS3 joypad's rechargable battery fitted as standard.
The Red Ring of Death (well, Red Dot of Death now) will be my sword of Damocles, and I still consider the Live Gold subscription to be as painful and unnecessary as a lemon tea enema. But despite all this I will, before the end of the year, be an Xbox 360 owner once more. All that remains is to decide on a Gamertag. Mr_Willpower?
I'm sure you can think of something much better.