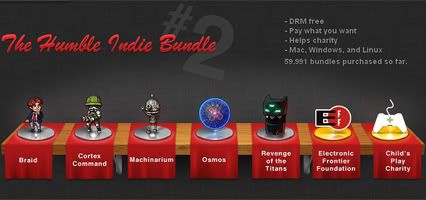 Games going cheap are good, games going free are better, but where is the middle ground? How about games where you can choose what to pay?
Following on from the success of the Humble Indie Bundle released last May, Wolfire Games have put together the Humble Indie Bundle 2, consisting of five great indie titles available for a pay-what-you-want price.
Games included in the bundle are Braid, Cortex Command, Machinarium, Osmos and Revenge of the Titans, all available under this deal on PC, Mac and Linux until December 21. Oh, and they are all DRM free.
The funds raised by this are split between the developers of each game, as well as charities Child's Play and the Electronic Frontier Foundation. When paying for the games you are able to allocate exactly how much of your money goes to which group, and if any of your cash is left as a humble tip, to fund possible future bundles.
The release of the second bundle follows news that purchasers of the original Humble Indie Bundle can now access their games on Steam. Simply login to the email address that you used when buying the original bundle and find the recent email that contains your product key to activate on the digital download service.
If you're interested in picking up on this great deal, you can find all the details on their website, here.