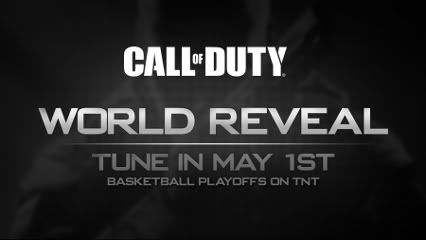 Even though annual Call of Duty games are becoming as predictable as the tide it still doesn't make the world any less excited about the first glimpse of the next instalment. It looks like we'll be getting our initial peak in 719,150.76 seconds… no, 719,147.34… no 719,143.59…
The redesigned CallOfDuty.com website has been adorned with a countdown timer and a not so cryptic message that reads: "Call of Duty world reveal. Tune in May 1 basketball playoffs on TNT."
After analysing this devilishly fiendish code, we reckon they'll be showing something of this year's Call of Duty title during an ad break in the basketball or something. However, don't worry too much if you're not in a position to watch the basketball as these things do have a habit of jumping to YouTube quickly.
No official word has dropped on what the new Call of Duty game will be, but numerous sources including developer CVs, leaked retailer listings and domain name registrations all point to a Black Ops sequel. It is Treyarch's turn to launch a Call of Duty, so following on from their last successful entry makes sense.
Look out for more official information and hopefully some promising footage at the start of May.