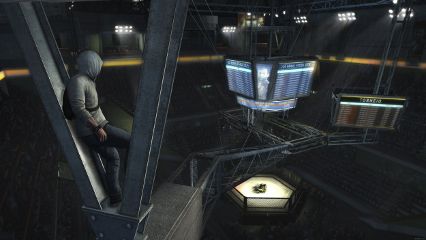 It looks like we have an Assassin's Creed 3 double whammy news day today. Remember the Assassin's Creed Hacked History Webgame we talked about earlier in the week? Well, enough dedicated assassin's clicked the required number of tiny details to decode the above image, which raises a few questions now doesn't it?
It shows what we can only presume to be Desmond, not strapped into the memory machine, but instead high above a modern day professional fighting arena, hiding in the rafters. He's had that white hoody for a little while, but this is the first time we've seen it up as he's doing something that looks fairly assassin-y.
So what does it mean? Will we get some modern day gameplay chunks that are more than just glorified acrobatic playgrounds? Maybe we'll get to try our hand at some modern day assassinations. Or maybe Ubisoft is just screwing with our heads. Whatever it is, this certainly appears to be an in-game shot.
You can view and download a hi-res version of the picture at the Hacked History Webgame website here.
Ubisoft is definitely cranking up the hype for Assassin's Creed III ahead of its October 31 release on Xbox 360 and PS3.