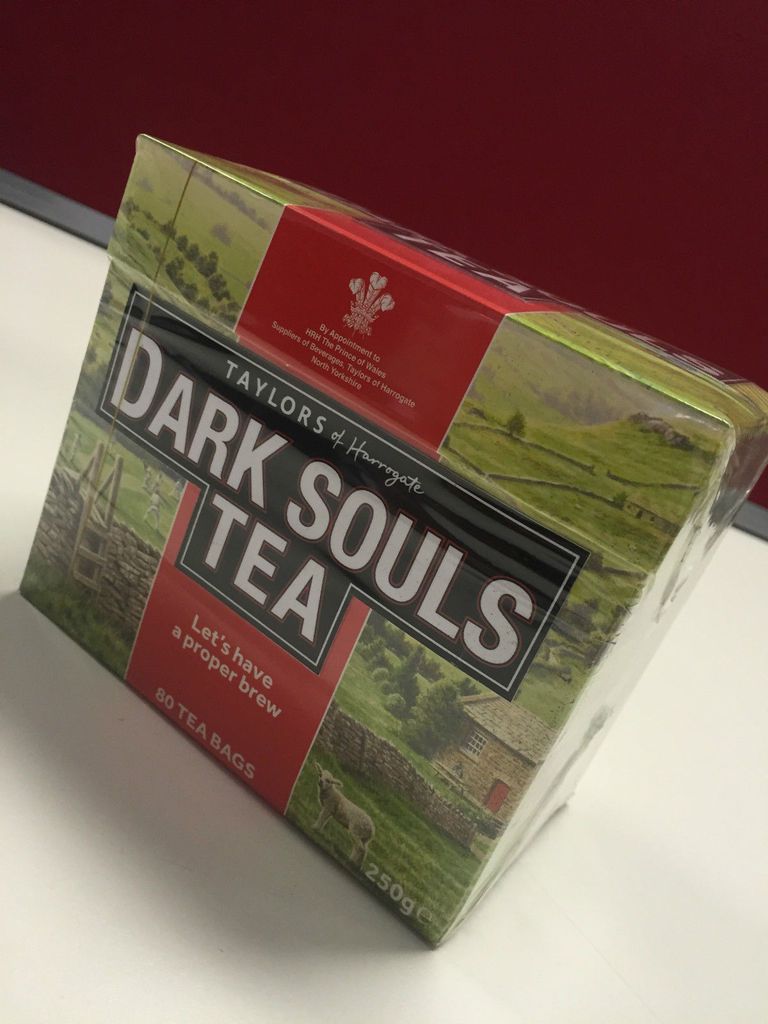 Fear not, gentle reader, you have not gone mad. You did indeed read that headline correctly. Right now, you have the chance to buy yourself a box of official Dark-Souls-branded tea bags. This is a thing that is actually out there, in reality, right now. But! There is only one box in the whole wide world. As such, it's up for auction, with 100% of the money going to Special Effect; an awesome charity you can find out more on here.
Eagle-eyed readers will take a look at the photo up there and realise that, yes, this is in fact a box of Yorkshire Tea with the words changed. But it's official, it's legit, and it's real. Despite the fact that it's easy to stare at the photo for a full five minutes and still doubt what you're seeing, it is real. So what's in the box? The game, and perhaps some limited edition items such as a statue, art book and t shirt? No, friends, no. The box contains eighty tea bags, and nothing more. BUT IT SAYS DARK SOULS TEA AND YOU KNOW THAT YOU NEED IT.
It'll be interesting to see how much it goes for. The starting bid (which has already been met at time of writing) is £99, with £2.50 delivery (though that likely only covers UK addresses). If you have both the desire and the money to place a bid, the product page is here. The money's going to a great cause, so if you can, go ahead and bid! Yes, it's disappointing (and slightly odd) that the standard Yorkshire Tea art has been retained for the background; but the bottom line is, this is official Dark Souls Tea, and it's the only box on the whole planet. It's like that Wu-Tang Clan album, only completely different.