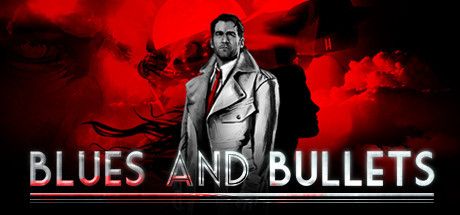 Format: Xbox One (version reviewed), PC
Unleashed: Out Now
Publisher: A Crowd of Monsters
Developer: A Crowd of Monsters
Players: 1

Game code provided by PR
You thought Telltale sometimes leave big delays between episodes? They've got nothing on A Crowd Of Monsters here. The first episode of Blues and Bullets was released about seven months ago, and only now do we see episode two finally arrive on Xbox One. That's one heck of a wait to live up to. It needs to get off to a running start.
The second episode starts off with one of those "previously on…" summaries which, while ordinarily something we find mildly irritating, we actually needed after such a mammoth gap between episodes. You'll still need to remember a decent amount though, as it only serves to nudge your memories in the right direction. For better or for worse in this respect, the second episode doesn't immediately pick up where the first one ended. It begins instead with one of Ness's memories. Our hero is off to continue his affair with the wife of his friend and colleague Jim Dockers; or so he hopes. This meeting takes place shortly before something that will affect them both profoundly and, besides, Jim's wife Delphine seems keen to call it off.
What you choose to say and do here will dictate just how desperate Ness is to keep the affair going. It's an interesting start to your control over the main character's actions here, but it's also sadly overshadowed by some embarrassingly infantile use of a supporting metaphor. While Eliot and Delphine are talking at the dock, with Eliot trying to salvage the relationship he's having behind his friend's back, an old man nearby – determined to catch a particularly big fish – keeps yelling at the top of his voice about the fish he's determined to hook. It's flippin' terrible, and the moment Eliot finally tells the old man to shut up doesn't come nearly soon enough. There's even an optional conversation you can have with the fisherman prior to this, where the game tries to goad you into joining in with the unsubtle and tired metaphor. We refused.
With this painful section out of the way though, things improve (despite a similarly cringeworthy, but blessedly brief, use of metaphor later on). There's another memory section later on where Ness is with Jim Dockers himself, who clearly suspects him of the affair by dropping several strong hints that an innocent man would miss. This is handled extremely well, creating an air of highly-charged tension that Ness has to pretend he doesn't notice until he confesses to the affair… or doesn't, depending on what you decide.
The affair isn't the dominating theme though, with the rest of the episode very much about the mysterious missing children case. Ness remains on the trail of Al Capone's kidnapped granddaughter Sofia, and – temporarily at least – manages to nab himself a solid lead. This involves a grisly air similar to that in the first episode, and another area which he must scour for clues before putting the pieces together in his head. Again, the process is simple and forgiving enough to complete even if you don't know what you're doing, but the logic and lines of thinking here are clearer and more consistent than in episode one.
The biggest difference in terms of gameplay is that there's a lot more shooting to be done here. Too much, frankly. Sure, it's fun to pull off headshots in pretty much any shooting scenario; but as movement is handled for you, with the player required only to pop out of cover, aim and fire, these sections are essentially a lightgun game without the lightgun. It certainly doesn't help that the aiming sensitivity, no matter how much you fiddle with it, is never quite right. Luckily, you're something of a bullet sponge.
So there are noticeable dips in the experience, and the game remains a little jagged in technical terms (Capone still looks like a half-melted waxwork of himself). Ness and the world he inhabits resemble history less than ever here, too; the episode would work just as well with a cast of entirely fictional characters. The story nonetheless remains intriguing, and we're keen to see how things develop. A Crowd of Monsters' ferocious determination to set the game apart in terms of style also, again, benefits the experience greatly. The mostly black-and-white presentation still looks cool, and one section that breaks from form for overtones of horror is tense and memorable. The decisions we made in the post-credits sequence were quickly regretted, and we're eager to see what consequences, if any, follow. Let's hope it's not another seven months before we can find out, eh?