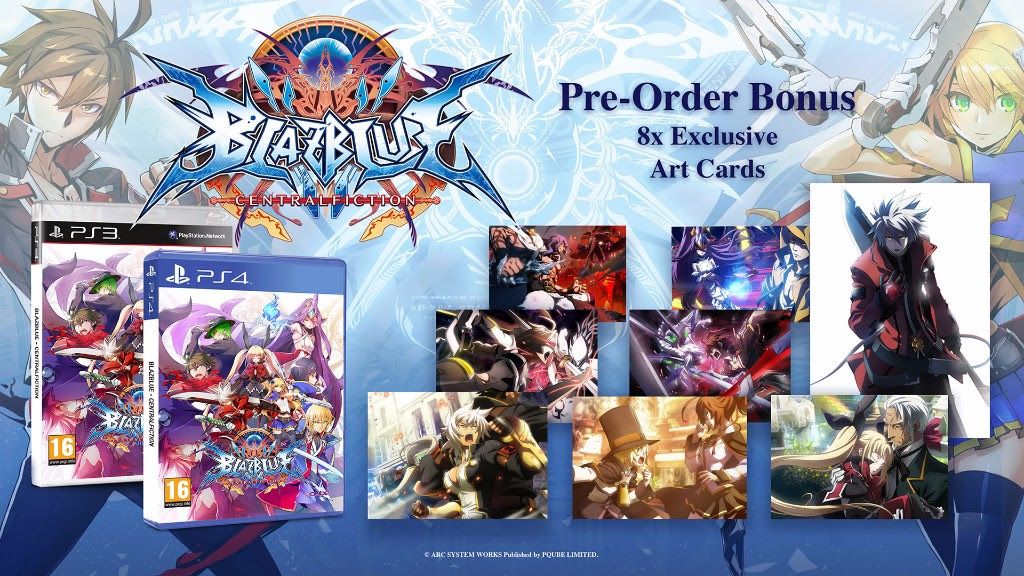 If you're going to talk about 2D fighters with gorgeous art, nobody's going to take you seriously if you leave BlazBlue out of the conversation. There's many a feather in the series' proverbial cap, and yet another is to be released this year. BlazBlue: Central Fiction will hit European shores for PS4 and PS3 on November 4th.
Central Fiction promises to bring Ragna The Bloodedge's story to a close at last, as well as throwing six brand new characters into the mix. There'll also be a huge story mode again – over 30 hours, apparently (31?) – as well as over 60 stages (61?), and a final tally of characters that sits at over 30 (31?). To further encourage fans to put pre-orders in, bonuses and a super-duper edition have been announced.
By pre-ordering from "selected retailers" (only Game is named), fans can nab themselves a set of eight art cards. Not enough BlazBlue flavoured stuff for you? If you're prepared to pay extra, it sounds like the Rice Digital exclusive "Azure Edition" is for you. For a penny shy of seventy quid for PS4 (or sixty for PS3) it gives you the game, a 100 page art book, a soundtrack CD, a Noel Vermillion figure, and… a pretty box. Presumably with all that stuff in it.
What we hope gets released with a BlazBlue special edition at some point is a book that explains exactly what the heck is going on. They're beautiful-looking games, smooth and wonderful fun to play, but the story modes are always missing a little something. Coherence, maybe?