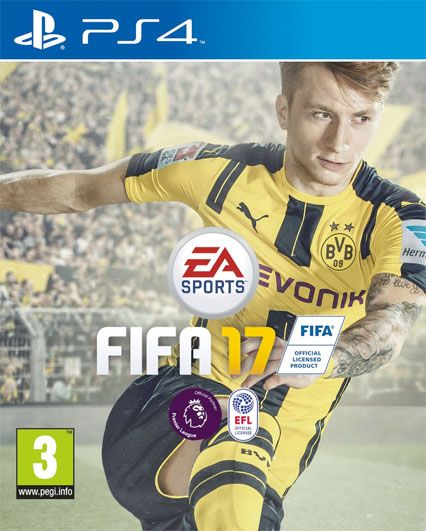 Format: PS4 (version reviewed), Xbox One, PC, PS3, Xbox 360
Unleashed: Out Now
Publisher: EA Sports
Developer: EA Canada
Players: 1-2 (offline), 2-22 (online)

Game disc provided by the publisher
A new FIFA game each year is as much an annual event as Christmas. FIFA has been the dominant game both in terms of sales and gameplay over the last few years. But last year saw its main rival Pro Evolution Soccer back on form, with this year's edition of Konami's franchise honing the gameplay even further. So how does FIFA 17 fare in the battle of these two giants of football games?
This year sees some major changes made to FIFA, with a new game engine being the first of several changes made to the game. The move to DICE's Frostbite engine has certainly helped make the game look better than ever, with much improved lighting and player likenesses and even strips that flutter realistically as players move.
So with a decent game engine in place, how does the game play? Thankfully it plays really well. The AI has been vastly improved from previous games in the series, with defenders now closing down attackers quickly, which make the new shielding ability crucial to creating space for a shot on goal. Set pieces have also been tweaked, with a cursor allowing you to aim your crosses a lot more accurately than before. You can also change your runs during free kicks and penalties which gives you more control over the ball. There are a couple of niggles though, with the pace of the game and passing feeling quite slow, and there were a few instances of misplaced passes that brought groans from the crowds and ourselves. The players also feel quite cumbersome compared to the players of this year's PES. The refs seem quite slow to give free kicks too, with several seconds between a foul happening and the ref blowing his whistle. This does get quite frustrating when you get into the box and are lining up your shot!
The major new addition to this year's FIFA is a story mode called The Journey, which puts you in the boots of a young Premier League player called Alex Hunter, as he goes through the highs and lows of a professional footballing career. You start off by choosing which club he supports, and then choose which club to start his career at. We chose Sunderland as we felt there would be more of a chance to make the breakthrough there than at one of the bigger clubs. You take part in up to two training sessions in between matches, which help you boost Hunter's stats. You also have opportunities to make reactions to different situations Hunter finds himself in (with three basic options of cool, fiery or balanced) that you choose from a Mass Effect style option wheel. These affect your relationships with the manager and fans, with a cool head pleasing the manager, while the fans love a fiery character. Keeping the manager sweet helps you break into the team, while gaining fans on social media helps you get more sponsorship deals and cold hard cash. The story is well acted with the tale focussing on Hunter's relationships with his parents, his grandfather (who was a football star in days gone by), his agent, and his friend turned rival Gareth Walker. It's very well done, with even the TV commentators chipping in with comments about Hunter and his ongoing story. However, one part of the story was jarringly way off the mark when, near the end of the season, one of the club directors came into the dressing room ranting and raving about relegation, and how the club needed to stay up; when in fact the league table showed we were comfortably in 10th place in the table, and 18 points clear of the relegation zone! Which was as bizarre as Delia Smith famously shouting "Let's be havin' you" during a Norwich City game several years back!

The game contains an impressive raft of game modes, with Seasons returning this year with the addition of various benchmarks that your team has to achieve, like saving your team from relegation or winning the league depending on whichever team you choose. Popular mode Ultimate Team gets the addition of Squad Building Challenges and FUT Champions that let players take their squads online to take on rival teams, rank up and earn greater rewards. Pro Clubs is also back, and lets you and up to 10 mates form your own club and play online against other clubs, working your way up through the leagues and playing cup games. Online worked almost flawlessly with no lag during the games we played, although there were a few instances of opponents and our own team losing connection, which resulted in whoever lost connection losing the game. This has been changed from past versions of the game to stamp out teams quitting games when they are losing, and certainly in our time with the game, it has seemed to reduce this annoyance a lot.
FIFA 17 is an excellent football game that has faultless presentation and a fantastic selection of game modes, with The Journey being a great new addition to the franchise that has added an extra dimension to the game. Gameplay is as solid and enjoyable as ever, but is perhaps a tad sluggish and cumbersome compared to its main rival. When it comes to choosing which game to go for this year, it's a tough choice, with PES arguably having the better gameplay, while FIFA has all the licenses and game modes you'll ever need. With PES back on form EA has made some great improvements to FIFA this year, and as a package it's a real treat for football fans.