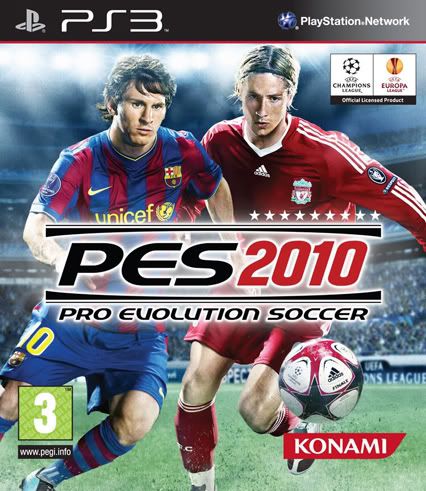 Format: PS3

(version reviewed

), 360, PC, Wii, PS2, PSP
Unleashed: Out Now
Publisher: Konami
Developer: Winning Eleven Productions
Players: 1, 2 (+Online Multiplayer)
Pro Evolution Soccer used to be the gamers choice for a realistic and satisfying football videogame. However during this generation of consoles, Konami have lost their way, and their crown to the ironically better evolved, EA developed FIFA. This year they've promised wholesale changes to the game, but is it enough to challenge for the title?
FIFA 10 this year raises the bar further, and from playing the demo of PES 2010 we didn't hold much hope that Konami had raised their game sufficiently to better the new FIFA. After loading you'll immediately notice the slick new production of the intro and menu's. It's a huge improvement over the dated and simplistic design from previous versions of the game, and is a good first impression. From this menu, you get various options and can create, and take part in the licensed Champions League, complete with the signature music. This along with the Europa League really adds extra pizzaz to the game. The only problem still being the lack of licensed teams, which takes away from the atmosphere of the whole thing when you face teams like North London instead of Arsenal! However there is a terrific editor in place that lets you change everything from the player names to club badges, and the UEFA competitions addition is still a major plus point over FIFA.
Gameplay this year has been slowed down from last year's frantic affair, and it feels a lot more like a simulation than an arcade game. It's not as slow as FIFA though, but instead offers up a quick paced and exciting game. Goalkeepers have been improved from last year, as has the player animation. Although we get the feeling the game engine is a relic from the previous generation of consoles, and is in serious need of a total overhaul. It just feels unrealistic and disjointed compared to FIFA 10's ultra smooth player animation. Konami have made big noises about the new 360 degree control of your players, but it doesn't seem to make a big difference from last year's game, in comparison to the same implementation of 360 degree control in FIFA. On the other hand the graphics are a lot more realistic than EA's effort, with players looking pretty close to photo realistic. Even players from the likes of Celtic and Rangers are well defined and accurate. One thing we noticed when playing at Regular difficulty though, was the ease with which you can dribble up the park with one player. Several times we took my centre half on a lung busting run, without any challenge from the opposing players. We found ourselves winning games 6 or 7 nil, by using this tactic. On the two harder settings this is addressed, but we always remember PES being ultra hard, even on the Regular setting, and this means Professional and Top Player are the only two modes to challenge seasoned players.
Probably the most played part of PES is the Master League, which is Konami's addictive managerial mode. Here you can take a team from either the licensed Seria A, Ligue 1, Eredivisie or the partially licensed Primera Division (12 teams including Barcelona and Real Madrid), or English Premier League (Manchester Utd and Liverpool), buy and sell players and build a squad to take on the best teams in the Champions League, which along with the Europa League is now fully integrated into the Master League. It's just as addictive as ever, and is probably the best mode in the game. This year they have implemented a real money system for transfers and sponsorship deals, rather than the unrealistic points from previous games, and this helps to add a bit of realism to dealings. The menu's are also better designed, and are cleaner and easier to understand. It's nothing major but it adds to the overall feel of the game.
There is also the Become a Legend mode, which is basically FIFA's Be a Pro in a different tracksuit. You create your avatar from scratch adjusting facial features etc until you have your perfect clone. You can also import photos of yourself from your PS Eye camera, but it's not a patch on FIFA's GameFace. You then select the team you will start your fledgling career with. We chose an unknown team in France to start off. After you play your first match you are given the choice of several clubs to sign for. From then on, you play practice matches in order to impress your new manager. After a few games we were knocking on the door of the first team, and eventually got a place on the bench. You then watch the match, until your manager decides to bring you on, usually with 5 minutes to go! This can be a bit frustrating, but is realistic, and you can fast forward the game if you don't fancy watching it. Everytime you come on you gain experience RPG style, and build up various facets of your player. As you get better eventually you'll become a first team regular, and from then on big money transfers, superstardom and your very own WAG beckon.
Commentary in the game is handled by Mark Lawrenson and Jon Champion, and just doesn't sit as well as the spontaneous banter from FIFA's Andy Gray and Martin Tyler. A lot of phrases are repeated and sometimes the commentator gets a bit too excited that half time is approaching!
Online multiplayer in previous PES games has been a bit of a disaster, between having to sign up to get a Konami ID, to the game ruining lag. This year however they have done away with the ID system, and lag is a lot less prevalent than it was, with games getting cancelled without forfeit to both teams if things get too bad. The new Community section lets you and 31 other friends create League's and Cup competitions to play online, and is very well implemented. You can also take your Become a Legend avatar online as well. They don't go as far as having the 10 v 10 online games that FIFA offer, but it is still a major step in the right direction.
So then, it's a mixed bag. In some areas PES 2010 beats FIFA 10 hands down, but in others it still lags behind like a pub team centre half. It's a major improvement on last year, and is still an enjoyable football game, but with the ever evolving FIFA, it's still a yard off the pace.
8/10