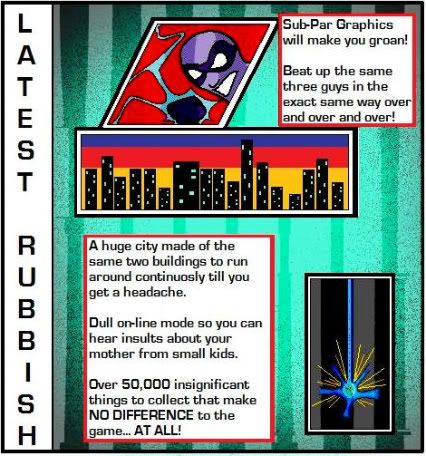 The subject of advertising is something I ponder a lot of the time (yeah, that's how I roll) and although I can find so many things about it that I could target with my unending rage, that is not to say that I dislike everything to do with this branch of media. In actuality I envy some advertising methods; in the same way I might envy a serial killer for their superb murdering abilities I mean.
One thing I envy about advertising, or at least the Public Relations branch of advertising, is the ability to conceal an unsatisfying truth within an incredible boast. You know the kind of thing I mean; the sorts of statement that gets produced by the hype machine, that appears on the back of a game's box, in preview material for a game or that spews from Peter Molyneux's mouth.
So, for a bit of fun (yes, fun. I'll say it again. Fun. I do this for fun), I decided to list the kind of thing you might see in PR press releases or general advertising material or on the back of the box for your newest gaming purchase and what these all really mean. I urge everyone to contribute with any more you can think of and your own ideas about what they 'really' mean.
(I should point out for the sake of clarity that only some of these are even remotely serious. I don't mean them literally and there are always exceptions. Please don't attack me, glorious PR arm of the great advertising behemoth, I beseech thee.)
They Say:
"Over thirty levels of fun!"
They Mean:
The game has thirty-one levels.
Started with an easy one to poke fun at as everyone is bound to have read a sentence like that on a game at some point in their gaming life. You don't see it as much these days I must admit, and it's fairly obvious why.
They Say:
"Critical acclaim!"
They Mean:
One review liked it.
They Say:
"Excellent… 5* – The Sun."
They Mean:
No credible source liked it.
They Say:
"Dozens of secrets to find!"
They Mean:
Collectables. Lots of collectables. Tedious collectables. Hundreds. Thousands.
I'm quite the Achievement/Trophy completionist and a fairly sane man, but one more "Collect x of x" type achievement to aim for and I'm climbing my local clock tower, clutching a rifle and a hurriedly scrawled list of developers as I go, to aim for far more satisfying targets.
They Say:
"From the creators of…"
They Mean:
They're hoping it will sell well off of the back of the only previous success that they've had.
They Say:
"…Based on the hit movie!"
They Mean:
The game was rushed out the door in time for the movie release date and had a production budget comparable to what an average person might spend on toothpicks during their lifetime.
They Say:
"Similar to Grand Theft Auto."
They Mean:
Exactly like Grand Theft Auto.
Yeah, I know they aren't specifically going to mention something like GTA if it can be helped, this is more an example of a reply I've seen in a lot of interviews when the interviewee has been posed specific questions by the interviewer that has caught them slightly unaware. Keep an eye out for this one, it's honestly amusing how often it crops up.
They Say:
"Explosive Xbox Live/PSN online play."
They Mean:
Exposure to the worst kinds of people in the entire world that will hate you for your superior playing ability and eventually have you gleefully wishing for a nuclear apocalypse every time you're berated with yet another immature taunt.
They Say:
"High octane non-stop action from start to finish!"
They Mean:
Couldn't be bothered thinking up a plot. Stuck in lots of explosions as filler.
They Say:
"Customise your character."
They Mean:
Male or female. Five different faces. Twenty hair styles (only three of which you'd ever pick). Good or evil. Shotgun, Sniper Rifle or Assault Rifle. Heavy Armour, Medium Armour or Light Armour.
Just once I'd like to see mundane options like favourite food, colour and soap opera. In case you're wondering: pizza, red and real life.
They Say:
"Unbelievable next-gen graphics!"
They Mean:
Plausible current-gen graphics.
They Say:
"Over 50 hours of gameplay."
They Mean:
Twenty hours tops.
Actually, I love these suggested completion times that get thrown around for games. They used to make me feel bad because I always came in well under. It made me feel like I must have been rushing, but then I found out the truth. The worst are always from people involved with the game doing their own promotion (advertising on the back of the box comes a close second). Who are they using as the test subject for the completion times that they suggest? A bug tester that has to spend five minutes running into every wall to make sure they can't clip through it and then fill out a form if they do?
Anyway, that's the first twelve that came to mind, but there are dozens more at the very least. So once again I'll ask you to chip in down in the comments section with any that you can think of.
Best PR/advertisement/box quote with an alternate 'real' meaning wins…nothing. My adulation? Doubt that's worth much. My unyielding affection? It's far more sinister and dangerous than it sounds. Probably not a good idea. Oh, I know! You win the satisfaction of being the winner. Wow.
Title Art R. Furie; Words Ian D