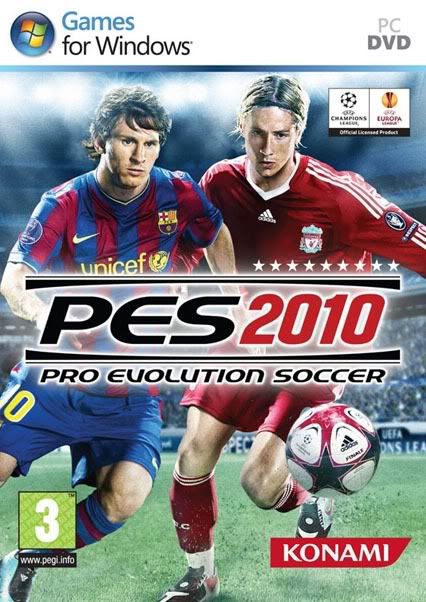 Format: PC (version reviewed), 360, PS3, Wii, PS2, PSP
Unleashed: Out Now
Publisher: Konami
Developer: Winning Eleven Productions
Players: 1 (+Online Multiplayer)
Fans of 'The beautiful game' love a comeback. It's what makes it exciting and awe-inspiring. Maybe that's why West Ham physios are still rubbing Dean Ashton's crooked knees. And just like The Hammers' physios, the boffins at Konami are desperately tweaking their prized player in the shape of the PES franchise, so that one day it will regain the crown of best football game from rival FIFA. The debate over PES v FIFA will still be rumbling on after all of us have gone, but the majority will tell you the latter has been in pole position and the once untouchable PES has slipped up in the past couple of years. So, does this Konami comeback have what it takes to make the PES brand the market leader once more?
In short, we think Konami have closed the gap with this much-improved offering but cannot claim to be number one just yet. In footballing terms, the Konami boys have hit the underside of the crossbar, if not quite the postage stamp corner of the net – at least on the PC version. FIFA's ace cards in previous years – registered trademarks, recognisable soundtrack and superior AI – have been, bar the licenced teams, matched by PES this time round. It will be somewhat disappointing, though, to PES purists that the game has succumbed to a FIFA-style tactics board in that players have an overall rating out of 100, which changes if you are too much of a 'Tinkerman' and switch them out of their favoured positions.
But let's not criticise the changes; they are mostly for the better. Let's see: The old faithful features, Master League and Become a Legend are still superior to FIFA's offerings and have even more added detail. The Master League now deals in 'grown-up' money, instead of credits, and cute detail such as sponsorship, managing finances and a youth team make it more intense and addictive. They once said that the Championship Manager series ruined relationships – not nearly as many as Master League on PES, we bet. But the addition of a Champions League feature is so glorious that when the familiar operatic soundtrack blares from the PC speakers, we can easily picture ourselves sat in front of the telly in our favourite armchair with a cool bottle of lager on a Tuesday or Wednesday night, watching the great players we could have been.
Suitably enticed and itching to try out this Champions League mode, we quick-started a Barcelona versus Real Madrid match and the detail is incredible. It is clear that Konami has put a little extra work into the famous names – Henry is so handsomely lifelike that some gamers may even swoon at the site of his well chiselled facial features. On the other hand, some spiteful (or lazy) programmer has made Daniel Alves look even uglier than in real life – yes, it is possible. The better-known players are easy to spot, even from the wide camera angle, as their movement and play is scarily similar to the real thing. Torres and Messi, the faces of PES 2010, are mimicked to perfection. It has been a boast of Konami this year, that the players will have individual skills that mirror their real life counterparts and they're not wrong. When Gerrard has the ball, Torres is visibly more animated, and vice-versa. When the rapid Aaron Lennon gets to the bye-line his crosses don't always reach their target and when Scotland's Kenny Miller gets a chance to shoot . . . well, the beauty of a game means you can make him pull the bloomin' trigger! Easily mastered tricks and flicks that made PES the leading light all those years ago are still here but the previously inane dribbling motion is spiced up, depending on who the player is. Passes are more varied in weight and direction – don't expect to hoof a long ball forward, or a cross-field pass and expect to find a team-mate waiting there; you will have to try harder than that! Another aspect FIFA has dominated for some time is the gameplay audio. And, after playing PES 2010, it is fair to say this has not changed. However, just like the overall game, this has improved and is joy to hear. Unfortunately the dreary Mark 'Lawro' Lawrenson remains a pundit. The crowd is more audible and responsive to the action and subtle detail like murmured conversation between players in the tunnel during the entrance scene is proof that Konami has really put some thought into this year's offering.
However, the turncoats who left PES for FIFA because of EA's superior online mode can stay where they are; PES is not quite there yet and Konami will have to put in some serious off-season training to make this slicker if it seriously wants to challenge FIFA on that battlefield.
Much has been made, too, about PES' new 360-degress dribbling motion to rival FIFA's more realistic gameplay. This, again, falls short of its rival but let's give credit where it's due, after a further improvement. Anyway, the PES faithful will tell you they don't want a FIFA clone. Konami have made a great deal of the catchline 'The fans' game' and they are right. The stattos and those who crave ultimate authenticity will always lean towards FIFA but the regular gamer should not be put off by previous failures in the PES franchise and give the 2010 model a chance.
This game marks a triumphant comeback for the PES family and fans can once again hold their heads high in public. Previous failings have been heard and addressed by Konami and the PC version is a great buy for football gamers. But for hardline PES fans, there will be no substitute for a console battle with FIFA and, to be honest, the PC format is no battleground for two of the most sociable games around.
8/10
Guest Writer: Euan Paterson