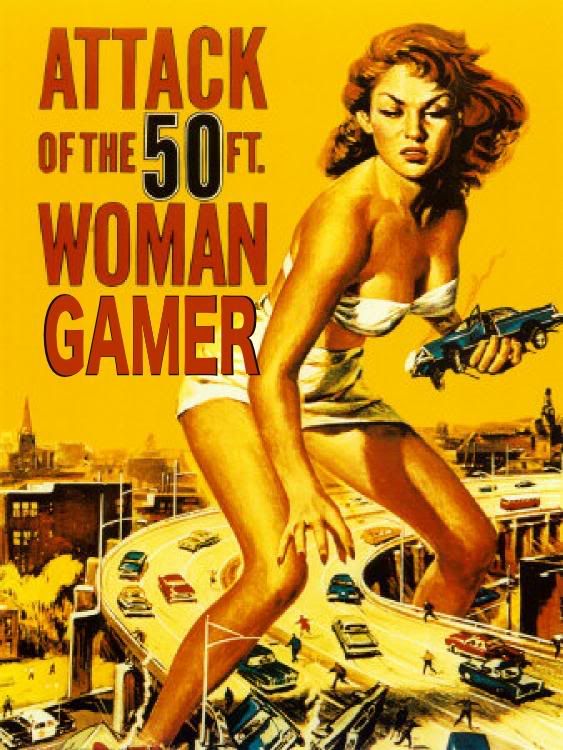 Picture this: a girl is fanatically playing a game, moving her fingers over the controller's buttons with absolute concentration. As she beats down the last enemy, a loud "yes!" escapes her mouth.
This isn't something you would 'ooh' and 'aah' over anymore. Yes, men no longer stop in their tracks to stare at a woman playing a game (well, unless she's hot). But have female gamers really been accepted? What is the state of women working in the games industry? And what do we think about all those half-naked game characters?
The perfect game for women doesn't exist
According to an Entertainment Software Association (ESA) report, forty-three percent of all game players are women. In fact, women over the age of 18 represent a greater portion of the game-playing population (28 percent) than boys from ages 6 to 17 (21 percent). The average gamer's age is 35. But do girls play anything other than MMOs and so-called "girly games"?
Of course we do.
Statistically speaking, we've been accepted. But has the industry accepted us? Yes they have. As women. And the problem lies right there. Categorising all women together inevitably leads to the industry treating us as a big, unified mass. They think we don't like the same games that men do. They think we find God of War offensive, we don't like tuning our car in Need for Speed, and we would surely never touch Alien versus Predator, or play CoD online. Of course, there are women that would in fact never play these kinds of games. But women as a target demographic are just as diverse as men are.
"Someone asked me once, how do you market for women?" Sheri Graner Ray told me during an interview. "And my answer was: you don't market for women. Anytime in any game I've ever worked on, we know what our audience has played last. We know what they're likely to play next. We know how long they played it, where they bought it, how much they paid for it, how much schooling they have, what part of the country they live in […] We know all this information about them and we know exactly what their needs are and how we're going to meet them. Why don't we do that kind of demographic work with women? If you're going to make a game for women, go out and target your demographic. You can't be for all women. You gotta know your target group. 'Women' is not a target."
The Wii: not so " weeee" to me
Since the coming of the Wii and Nintendo DS, the gaming audience has grown. Not only do women play more often, but gaming has become an activity for the entire family. Gaming is becoming more and more accessible because of the high variety of consoles and gaming styles that appeal to a diverse audience. So what kind of games do women like, according to what's supplied for us?
A couple of years ago, Nintendo had a special way to expand their console's reach to women: Wii Fit. Nintendo's strategy specifically meant to pull in more women, was to create stereotypical and shallow games. The first thought Nintendo had that made them think of women, was fitness.
Another game made especially for women is described in "Nintendo DS game Helps Women Maximize Skin Care". The ' Dream Skincare' game described here is a game where you, yes, take care of your skin. Or take a look at some Japanese games designed especially for women [link removed at source's request].
What you quickly notice is that apparently, all women care about is cooking, beauty, and animals. The biggest mistake game developers can make, is to think that the way to reach a female audience, is to make a game with a "compelling" narrative, like in "Dream Skincare" for the DS:
" Hormonal balance is key for avoiding wrinkles and age spots, and body temperature and weight fluctuations are good indicators for any hormone swings."
Sure, there are some women who find this interesting. Like hormonally unbalanced women. But when developers create a game aimed at the female demographic, they insist on making a game about fashion, beauty, or one of the other painfully obvious and sexists subjects. And that just shows that they still don't get it.
We like nudes
So there has always been this one big issue. Scarcely dressed women in games. Honestly, I don't know how female warriors in WoW can actually be protected by triangles of steel covering their 'essentials'. I don't know how their boobs can be so big and their waists so small without the whole universe exploding. It's not very realistic.
But then again, are games meant to be realistic? No. Games are supposed to allow you to be anyone you want to be. And believe it or not, some people want to be a thin, big-breasted female. It's also possible to customise your character to be fat, but obviously there are just less people who prefer that.
And be honest, girls. When you customise your male character, do you give him a big fat belly, a pathetic little moustache and a forehead that's way too big?
No, you make him big and good-looking. Muscles protruding from his clothes. We like to look at beautiful things. And it just so happens that mankind's vision of beauty isn't really all that original or diverse.
But don't go too far. At the point where over-sexualising becomes normal, we need to take a step back. Boobs with a diameter of half a meter is really pushing it too far. Women with normal boobs are sexy too. Plus, I bet you your big-breasted WoW-character could never make you as happy as a real woman could. Don't disrespect that woman.
Nakedness in practice
Let's just turn the table around for once to make you guys realise how a lot of women feel about this issue.
Imagine the image above to be on the cover of a game. Nothing shocking, right? Those kinds of elves aren't really rare in WoW. The mostly male audience that was confronted with this image (during a Sex in Videogames presentation by Graner Ray), did not find imagining the elf on a game cover shocking either. Then, they were shown the following image for them to imagine on a game cover:
Suddenly silent as a countryside's night, the audience was fidgeting with their clothes and staring at their shoes in quiet embarrassment.
The male reaction to the male equivalent of a female half-naked character was, to me, nothing short of hilarious. A half-naked woman on the cover was okay to them (even the more realistic looking ones), but looking at a picture of a half-naked man? That just wasn't cool to them. The interesting and only difference between the two pictures? The gender.
"If this was on the cover of WoW, how many copies of it do you think it would sell to guys? So as uncomfortable as you [the guy] are, that uncomfortable I am when I see this with a woman. And then they go 'oooooh'. Cause what's the difference between the pictures? There is no difference." (Sheri Graner Ray)
So, are we female gamers, or are we gamers?
So what can we conclude from this?
While at first women were mainly concerned with the representation of women in video games (always scarcely dressed) and not being accepted as gamers, a whole new problem has arisen.
Although the number of female players has grown since the Wii and DS (now that gaming is more accessible), the games industry has become more sexist, just in a different way. Sexism now takes place in the treatment of women as one target group. The games that are designed specifically for women are more sexist and superficial than the scarcely dressed women that make their appearance in games. Denying our diversity and labelling us all as cooking, beauty and fashion fans is a lot more insulting than a half-naked elf.
You could argue that campaigns aimed at women work. Wii Fit sells. This is simply because there are always women who indeed feel attracted to games about fashion, beauty and horses. But seeing these women as a representation for all women is short-sighted and, frankly, losing companies money. Because there is a way bigger group of women out there that do not feel any pull to buy those games, and feel pushed away by it. There is a way bigger female audience out there, dear developers, and you can go get them. Just realise that our gaming behaviour differs per individual, just as it does for men.
We can play, but not create
Not a lot of women work in the games industry, we know that. And those that do mostly occupy PR or marketing positions. There are a lot less female producers, programmers and artists. We can be gamers, but can we be creators?
"I've been told: 'you can't make real games'. I've been told, 'We have a fraternity here and we don't want to upset the comradery. I'm sure you understand'. That happened a year ago October." (Graner Ray)
Of course this doesn't happen to all women. Some of them are lucky. But I knew exactly what she was talking about during my enlightening interview with her. I know what the sceptical looks on men's faces are about, and I know why it takes me so much longer to convince someone of the fact that I know what I'm doing, and I'm not just a bimbo. I experience every time that it is harder for me to win a man's respect than it would be for another man. I see them high-fiving, "what's up dude"-ing, and sticking to their group of 'just us guys'. And whenever a women tries to enter the group, they often just try to hit on her. The games industry is their own little club, the one they've wanted to have since they were children. It's an industry where they are at the top, where they are the experts, the heroes. There have hardly been any women at their level, and the ones that are or that have the potential, are scared off by scepticism and unfair treatment.
"When women in the industry start off," Sheri Graner Ray said with a sigh. "They're like, 'no I don't see any of that! The guys all treat me like their little sister, I'm just one of the guys!' and I think: hang on honey, it'll change in a few years. About three of four years down the road, they start to see all the guys around them being promoted and they're not, and suddenly they start going: 'heeeey!'. And then they stop telling you where the design meetings are like they did me, and you start realizing that there's something wrong. Then the women get mad and think we should do something about it. Unfortunately most of them just tuck their heads in the sand. And it still doesn't change."
And it should change. Women can broaden the industry because they think differently from men. Because they have another perspective to offer, other methods and ideas that can enrich games in a way we might not realise. But women should realise that they need to have the balls to withstand the scepticism and fight it before it will go away.
I would love to walk into a room once and not have that same old look shot at me, saying: "What's she doing here?".
Because men can say what they want about accepting women into the industry as equals, and some of them may actually be right; but we're just not feeling it. Yet.
As a last note, from a female gamer to other female gamers: stop playing in on the fact that you're a woman when it comes to games. If we ever want the 'female' in front of the 'gamer' to be dropped, we have to stop putting our focus on our gender. Saying "you lost to a girl" is very entertaining, I must admit, but it doesn't get you gamer status. Boast about your skills, not your boobs.