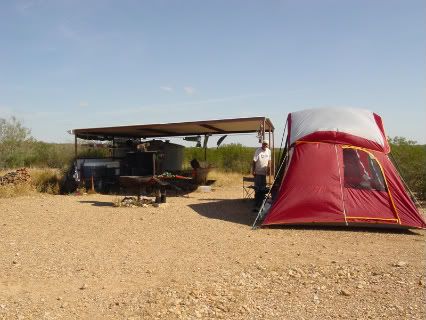 Hi – de – ho, campers!
Just my little joke. Welcome to issue eight of 'Mossy Stones', the monthly newsletter from your friends at Happy Campers. We at HC like to celebrate the wonderful practice of camping in videogames of course, and this month, we finally managed to conduct those community events we've been talking about for so long. Each and every one had at its heart the celebration of camping – but I'm sorry to say, there were mixed results.
Our first, and most conventional, event was the six hour gaming marathon in Leeds. What else could we choose to play except camper's favourite Modern Warfare 2? A solid gold classic, and everybody there (thanks to all who attended) was extremely excited. By the end of the six hours, however – despite mixing up team members, and trying every game mode including Deathmatch, Search and Destroy, Headquarters and Sabotage – nobody had scored any kills, or earned any points at all. Most confusing; I can assure you that everybody had picked an excellent camping spot, no matter what the map.
The five a side football match the following week didn't, I must say, fare much better. As soon as the whistle for kick – off blew, everybody ran to their preplanned camping spot on the pitch, waiting for the ball to cross into their line of sight within easy reach. In both halves, however, those at the centre of the pitch forgot to actually kick off before running to their camping spots (naming no names – Kevin, Andrew, Phillip and Joseph!). Nobody won… but nobody lost, and that's the important thing!
Now before I carry on detailing this month's community events, I'd like to remind you all that our first annual Index Finger Wrestling Championship is to take place next month on the 23rd, at Swindon Community Centre. We know that you all have extremely strong index fingers on your left hands, thanks to looking down the iron sights of your gun while camping for all those hours. So come on; prove just how strong that finger is! Entry is free. Just turn up between 10am and 11am, and speak the password 'statue'. Prizes to be won!
Now back to the community events; and I'm delighted to tell you that the air hockey tournament went down a storm. Our members were in their element opposite each other at those tables! In fact, one match went on for three days before somebody scored a point. Eventually however, Alan Kumquat walked out of the arcade victorious, £15 in Marks & Spencer vouchers richer. Well done Alan!
Our fourth and final event of the month was the go – kart race – which had to be abandoned after sixteen false starts. Each and every time, it started off well; the karts revved into action, and all quickly picked up speed. Every time, however, the karts all piled into one another at the first corner. What was happening, it seems, was that each Happy Camper was so unaccustomed to their field of vision moving left or right whilst sat down holding a controlling device, nobody was quick enough to realise they needed to turn at the corner.
Next month: another air hockey tournament!
We've been so busy with the community events this month, we've had little time for anything else. Every cloud has a silver lining, however! This has led to us deciding to publish a few of your letters for the first time, which we plan to make a regular feature. So, get writing!
Dear Happy Campers,
First, may I say thank you for the organisation and the newsletters, what a wonderful set of people you are (you certainly may! – Ed.). It's about time us campers got the recognition we deserve. People moan, but isn't that what snipers do in the army, camp? Yes, it is. It's exactly the same.
I'm top of the scoreboard in almost every FPS match I play, and the nasty messages and verbal abuse I get is just pure jealousy. The petty bickering I can take; it's the vindictive way people sometimes play against me that I don't like. I've lost count of the number of times that people I kill ignore everybody else just so they can come back and try to kill me. I hate it when people don't play the game properly.
What we really need, is a way to introduce the camping method into other genres. There must be a way. Any ideas?
Jerry Strawberry
Manchester
We're working on it Jerry; we're working on it. Research suggests that the beat 'em up genre is probably our best bet. Did you ever play the original Street Fighter II? It's often possible to camp in one place as Eddie Honda, and keep a Hundred Hand Slap going that stops anybody getting near. It doesn't always work, and it's rare we can draw a modern parallel; but it's an important stepping stone. We'll keep you posted!
Dear Happy Campers,
I need your help against glitchers!
Modern Warfare was ruined for me thanks to all the cheaters and glitchers who fly over or under the map, and can find me no matter where I camp. Now Modern Warfare 2 is almost as bad, especially on the Microsoft versions. The glitches haven't become as strong or as widespread yet, but that damn Javelin glitch keeps coming back, even after the updates! My kill/death ratio is falling like hell! I struggle to get killstreaks of more than three now. I keep getting people using that damn glitch so that even though I shoot first, they explode when they die and take me with them. They've got no sense of honour or fair play! What can I do?
Jonathan Starfruit
Cornwall
We've all been there, Jonathan. I'm afraid that for now, the best advice we can give is to leave the game as soon as you find somebody exploiting the glitch, and hope that there's nobody in the next lobby dirty enough to use it. People like that ruin the fun for everyone.
That's all for this issue, campers. We've got some great stuff lined up for next month, so just stay there and wait for us.
After all, that's what you do best!
David Calculator – Jones
David Calculator – Jones
Happy Campers President