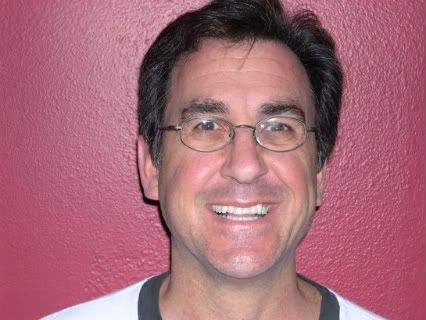 Surprisingly charismatic industry analyst Michael Pachter was again good enough to talk to us. Unfortunately however, one answer he gave saw him stumble into the subject of British (e.g. proper) football. If you don't want to see the results, look away now…
CG: What do you think we're most likely to see at E3?
Michael: I think that this year's E3 is going to be focused more on hardware than usual, with the official unveiling of Natal, a lot of focus on the 3DS, and continued demos for Move. While there are several "big" games planned for the back half of the year, the biggest announcements are the hardware ones, with pricing for all unveiled, and the first hands on opportunities with Natal.
CG: Media Molecule – specifically, two of the level designers and the game's producer – told us that a fully fledged LittleBigPlanet 2 would be "counterproductive" (when we interviewed them last year), as it would fragment the community. What do you make of the LBP 2 rumours?
Michael: It's hard to say what they plan for LBP. Clearly, they could add new tools and environments, but that could be done with downloads for the first game. I think we'll see LBP 3D, and don't think that is a 2010 event.
CG: Do you have much time to check gaming magazines/websites/podcasts, etc? If so, which are your favourites, and what do you think of the quality of videogames journalism in general?
Michael: I look at a ton of gaming websites, and my favorites are the ones that give me the most timely information. I regularly check Kotaku (they break a lot of news), Joystiq, and the more business oriented sites like GamesIndustry.biz, Edge Online and IndustryGamers.com. I look at a lot of review sites, and Giant Bomb is probably my favorite.
CG: With no signs of a Wii HD in 2010, could this mean Nintendo are saving the HD feature for a planned successor?
Michael: There is a Wii HD in 2010, it's just called PS3 with Move . . .  I suppose Nintendo can save the feature for their next generation console, but think that they are running the risk that Sony and Microsoft will capture the "trade up" market by moving now with Move and Natal.
CG: Do Move and Natal have the mainstream appeal necessary to drive hardware sales? Will 'hardcore' gamers stick with these devices, or could one or both prove to be a passing fad?
Michael:It's hard to say what will happen with Natal and Move until we see more software.  If it's great, hard core gamers will embrace the technology; if it sucks, they won't.
CG: What do you consider to be the most likely features of a 'premium', paid – for PSN package? Would it be fair to say that free online play is a powerful marketing tool, that Sony are not foolish enough to discard?
Michael: I really can't say what Sony will do. It seems to me that online game play can bear a monthly subscription (something as affordable as $50/year), and knowing that all of the server infrastructure costs Sony a ton, I'm surprised that they haven't imposed a charge yet. Free online play is a good marketing tool, but I don't often hear consumers say "I bought a PS3 because PSN is free". Everyone likes free services, but more often, I hear people say "I bought a 360 because of Xbox Live". I think that demonstrates that people will pay a modest amount for value-added services, and Microsoft keeps adding value. Sony gives a ton of value for free, but the company isn't so profitable that it can afford to be magnanimous forever.
CG: When are the seemingly inevitable PSP 2 and DS 2 announcements most likely to be made? Would Sony concede the PSP Go has been a failure, and offer some sort of part exchange program?
Michael: The DS2 seems to be the 3DS. I could be wrong, but I think that is the successor. Sony is likely working on something, but I don't expect them to concede anything this year.
CG: Tribal declarations of allegiance to distant companies and people are common in sport, but arguably more rabidly fervent and widespread amongst gamers. Why do you think this is?
Michael: I think the tribal declarations of allegiance are similar to individual affinity for neighborhood, religion, political party, school, etc.  This allegiance is no more than a statement that "I selected (fill in the blank) as my (console, school, religion, political party, neighborhood), and since I am a very wise person, I made an absolutely brilliant decision.  If you don't agree with me, then go f*** yourself"." I disagree that it's more rabidly fervent and widespread amongst gamers—you're from the UK, tell me that there is anyone in Manchester who isn't a ManU fan.
EDITOR'S NOTE: Critical Gamer implores any Manchester City fans reading this to resist the urge to hunt and kill Michael Pachter. Forgive him, he knows not what he does. We also apologise to any Manchester United fans in our audience; because they have, of course, never even been to Manchester.
CG: What needs to happen in order for mainstream media to afford videogames the same respect as movies? Is this even possible?
Michael: Movies have respect because we worship the "artists" (actors and directors).  The games industry has largely anonymous artists, who could be exceedingly wealthy, but who can walk down the street unmolested. Who even knows the names of the guys at Rocksteady games? I checked into a hotel at DICE while talking to Alex Evans, and the clerk recognized me by sight, and didn't know who Alex was even after I said his name. That's tragic, but until guys like Alex are chased by groupies, videogames won't garner the same respect as film.