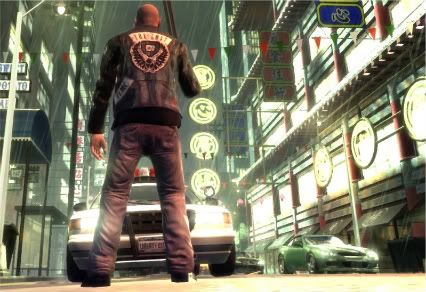 Are videogames still "games," or is this word and many like it outdated terminology passed down from our hobby's earliest of days?
Certainly, videogames have progressed since their earliest, primordial hours. Gone are the days when one large, rectangular "ball" bounced off of two other larger, rectangular blocks. The medium has advanced to the brink of realism. Where titles such as Heavy Rain show us examples of living life as a modern family, even if for just a brief moment. Graphics, coupled with sounds and storytelling is rife with potential for in-depth exposition, and inarguably the biggest threat to traditional cinema, even without explosions.
Well, not many explosions, at least.
Other mediums haven't suffered from this genre-breaking revelation the same way videogames have. Television has always been television, radio has always been radio, and books and theatre plays have always grown, or been forced to grow and expand; but there has never been any reason to discuss if they should have affixed to their art a different title.
It took games 30 or more years to get where they are today, but it feels like it's only been a decade. Perhaps it is the relative freshness of the industry which garners it the prestige of being "expensive kid toys" by the countless millions who have never allowed themselves to explore rich, digital worlds.
Technology is always evolving, and every medium takes advantage of it. However, let us assume that television and film are gaming's nearest competitor. While television eventually adopted high definition quality (or more recently, a fascination with the third dimension), what television is able to do to connect with its audience has always remained the same. You sit on your couch, and a glowing box forces a story down your face hole.
And until recently, games have been the same way. Just look at all the countless mindless shooters available, and remember all the devastatingly bland corridors we've been forced to stomp through in the past 15 years. Until one developer decides to stand up and make a drastic alteration to the status quo, most creators are willing to milk older ideas.
But the basic principal was always there. Choose your own adventure games have existed in even the barest text adventures for decades, but only now has technology finally advanced to the point where we can actually immerse us as that character. No longer do you have to pretend to be your created avatar, because for as long as you can stomach per day, you can actually live as your digital self.
While still limited to budget, production times and willpower, games continue to bridge this barrier and break previous boundaries. Open sandbox games such as Grand Theft Auto 4 and third person shooters like Mass Effect 2 have come remarkably close to letting you actually be either Niko Belic or John Shepard, and because of your interactivity and the way developers have written dialogue trees, you begin to care about your character and live their lives as if they were your own – with care, dignity, awareness and justification.
There is hardly any doubt that games are "art." Though debatable, they do have art assets, such as music and graphics, and tons of them, at that. Though to be fair, the definition of art, as according to dictionary.com is: "the quality, production, expression, or realm, according to aesthetic principles, of what is beautiful, appealing, or of more than ordinary significance."
Humorously, it is a totally subjective definition, much like anything of meaning; but the keyword to notice is "expression." Quite simply, gaming allows one to express him or herself like no other medium possibly ever could. Even if we are not quite at the point where we can interact with hundreds of non-playable characters in a holodeck-like environment, a la Star Trek, there is absolutely no reason to expect we will not experience that undertaking in our lifetimes.
The idea of calling games something different has been passed around for the better part of the last decade, and thus far, the most accepted alternate title is "interactive digital experience." Agree or disagree, it is unimportant. To be frank, the title is too long, doesn't roll off the tongue, and might have been suggested far too late. Thank you, pop culture.
The question is this: if games are no longer simple ball-hits-paddle affairs, have they indeed grown beyond their current pop culture slang? Or for that matter, is it even too late to argue the point, given that the word "game" has been deeply ingrained in our minds since many of us were born?
And no, it isn't important, but did anyone one else notice (weeks ago now) that when Roger Ebert was busy trolling the internet claiming that "games will never be art," that he never once used the word "expression" in any of his pieces? I'm just sayin', is all…
LINKS
Video games can never be art ~ Roger Ebert