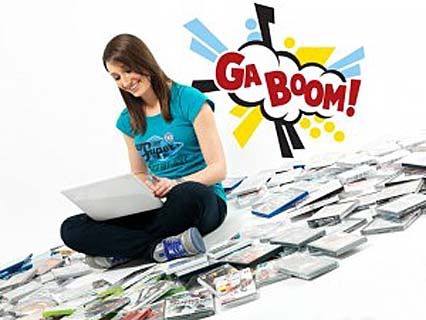 Fresh from her roasting in the Dragon's Den, a scorched looking Jessica Ratcliffe stumbled into the CG offices to answer some questions. After the interview, we compared game collections.
Got, got, need, got, need, doubles…
CG: Why set up GaBoom rather than any other business?
Jessica: GaBoom is something I have wanted to start since I was 15, so when I had the opportunity to start GaBoom this year, I knew it was what I should be doing and there was no doubt in my mind that this was the business for me. I've also played video games since I can remember and I wanted to start something I would use myself.
CG: What does GaBoom offer that other online game swapping services do not?
Jessica: GaBoom offers gamers a simple, quick and safe process through which to swap their video games with their fellow gamers. Members simply list the video games they want, the video games they have to swap or sell and GaBoom matches them with the people they can swap with. We then offer members three postage options, two of which are completely secure. These are called the GaBoom Escrow and Secure Swap and both make swapping your video games online safe and easy!
CG: How many members do you currently have, and how close are you to operating outside of the UK?
Jessica: We currently have 3,500 members and I'm hoping for a big boost next week…fingers crossed! I wouldn't say we are super close, but it is my aim to be operating outside of the UK within 12 months.
CG: Why include the option to sell as well as swap?
Jessica: I wanted to include the option to sell as well as swap to give members a choice, as I completely understand that not all gamers might want to swap their games for more. Some might prefer to just sell some of the games they have collected over the years if their cupboards are getting a little full.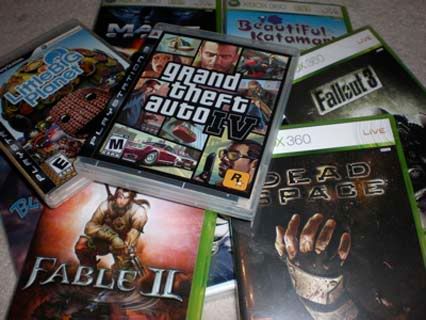 CG: When buying a game at GaBoom, how does the payment process work? What guarantees does the buyer have?
Jessica: We currently use PayPal as the payment process for buying and selling games on GaBoom. Once a sale has taken place, members can leave the other member feedback and let others know how the sale went. We are currently working on some great new features which will make buying/selling games on GaBoom super secure and will match our secure and insured swapping options.
CG: How closely do you monitor user activity? We spotted one person selling free download Halo Zero for £15 and a pre-order for Call of Duty: Black Ops for a suspiciously low £20…
Jessica: Yes…unfortunately, they managed to slip through a crack there but we have since added a feature to stop that from being possible because it just isn't right. Aside from that, we monitor user activity very closely, to ensure that members are having the best possible experience on GaBoom. I also try to make my email (info@gaboom.co.uk ) as prominent in the FAQ's as possible, so that if anyone has any feedback or have had a bad experience with another member, they can let me know.
CG: Publishers have always been vocal about their dislike for the second hand market. Has this caused you any problems, or can you see it causing any in the future?
Jessica: I completely understand Publishers' position and feelings on the second hand games market; however, there is a great want for second hand games, as brand new games are expensive and not all gamers can afford the games that they want when they are brand new. We haven't experienced any problems to date and although I am not sure whether it will cause any problems for us in the future, I hope to one day see the brand new and second hand game market working hand in hand.
CG: There are three methods to swap on GaBoom; the third, 'Forum Exchange', sounds rather risky. Can you explain this option, and why you decided to offer it?
Jessica Ratcliffe: When using the Forum Exchange method, both users contact each other directly to arrange the swap. This option is free to use, however, by choosing this option members agree that GaBoom accepts no liability for the transactions outcome. We chose to offer this method for the members who might want to use GaBoom and swap their games but might not want to pay £2.00 or £4.40 to ensure a safe swap.
CG: Reading between the lines, it seems that GaBoom plans to eventually become a gamecentric rival to ebay. Is that a fair statement?
Jessica: It's not my goal to make GaBoom a gamecentric eBay in such words. Simply because although like eBay we provide members with a platform where they can sell and/or buy second hand games, we are largely focussed on expanding our core offering of user-to-user swapping. But I would definitely love for GaBoom to be as successful as eBay!!
CG: What was it like to appear on Dragon's Den and did they like the idea for GaBoom?
Jessica: It was a brilliant experience and one that I will never forget! I had a great time during the filming of the show and I received some great advice and positive comments from the Dragons even though they didn't invest. I completely understood their concerns about the postal logistics and potential trouble of checking each game's condition but I've got some tricks up my sleeve for the future.
To see what all the fuss is about, take your carrier bag full of games over to http://www.gaboom.co.uk/.