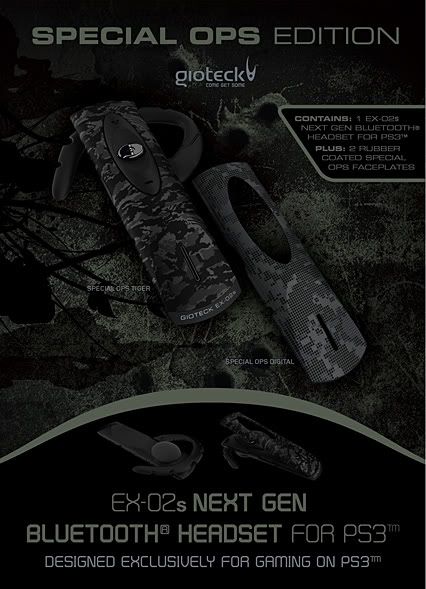 Gioteck are an award winning UK company who specialise in peripherals for gamers and have released a number of headsets for the PS3 in the last few years. This latest headset, the EX-02s has many improvements over its predecessor the EX-01, including noise cancellation, clearer voice chat, better battery life and a sleeker, sexier new look.
The first thing that you'll notice when you take the EX-02s out of the box is the futuristic styling. It has a camouflaged grey texture on the body that wouldn't look out of place in the ear of a Borg (cyborg villains from Star Trek for non-trekkies). Along with the headset you also get an alternative earhook so you can choose which ear to place the headset on, which helps if you have a hearing problem in one ear or are left handed. This is a feature that not a lot of other companies have thought of and is a welcome advancement in headset to ear unification technology . You also have the option to buy different fascia designs if you get bored of the one that's included.
The headset features an external speaker that sits outside the ear which is well padded for extra comfort. This new style of design means that you can have much longer play sessions, without the discomfort caused by a speaker sitting inside your ear. The earhooks themselves are very flexible and quite thin, which you'd think would cut into your ear if you play for any great length of time, but this wasn't the case at all. The volume and power buttons are situated on the fascia side of the headset, and are within easy reach if you need to tweak the settings. The unit comes with a USB charge cable that plugs into the PS3 for charging, and it took around three hours for a full charge. Pairing the headset with the PS3 was a simple task of pushing the power button on the headset until it flashed red and blue. The PS3 found the bluetooth headset without any problems and we were up and running within minutes.
For the sake of the test we started off by playing Battlefield Bad Company 2, a game where team co-operation and communication are vital in gaining the upper hand. After a bit of tinkering with the settings and upping the volume we were into a game. The sound quality through the speaker is really good, and we could hear our comrade's chatter clearly. When asking about our voice quality however they were not so impressed, saying we sounded like a news reporter broadcasting from inside a metal tube, which wasn't a great endorsement for this new product. They could hear what was being said fine, it was just that the noise affecting the mic interferred a little bit.
We played a good four or five hour session and were pleasantly surprised by how comfortable the headset was. We had initial reservations about the earhooks, but to be honest you would hardly know you had a headset on at all. It was that comfy and light. The outer ear speaker system definitely helped from a comfort point of view and we felt no ear irritation at all, even after extended play. The battery life was really good and it coped perfectly well with our four hour plus session. In fact, even after two days play of around seven or eight hours overall, the headset didn't need recharging, which is impressive considering some headsets struggle to last four or five hours. The unit also allows muting for when partners, parents or angered neighbours – annoyed by your gibbering – can give you a roasting without the embarrassment of your teamates hearing your grovelling apology.
We have no hesitation in recommending Gioteck's EX-02s for players looking for a cheap and comfortable headset, that also offers decent sound quality.  Obviously the Gioteck's mono-lug design can't offer surround sound features, but if you're looking for a headset just to chat to your friends as you play, then you can't go wrong with the EX-02s. It won't rival Turtle Beach, Tritton or Sharkoon headsets for surround sound immersion, but it's a good starter for players just getting into online gaming for the first time.