People Can Fly and Epic Games' Bulletstorm did not sell well. It did not sell well and I am very pleased that it didn't. Pleased not for myself but for gamers as a whole. Other than being a personal example of schadenfreude, there is a more important message to be found in small miracles like this.
First, it is better to appease the pedants already preparing to scroll down the page and jump straight in insulting me. Saying that Bulletstorm did not sell well is not the same as saying it didn't sell at all. Even if it is to be believed that it could not sell more than 300,000 units within a month of release (an estimate created by a financial analyst partially backed up both by EA stating that the game underperformed and by Epic president Mike Capps' statement that the game made no money for them when speaking with Stephen Totilo) it still might have sold 299,999 units in that period. Maybe. I mean, it probably didn't, but there's an outside shot.
The next likely port of call is a comparison. Probably to Activision and probably to Modern Warfare. Probably with metaphors involving rape and Bobby Kotick, but let's not dwell on that particular popular angle.
"Why do so many people buy Modern Warfare each year and not something innovative like Bulletstorm?" Using how many people buy each new Modern Warfare game interchangeably when comparing the sales of something like Bulletstorm implies they aren't different and that one is 'good' and one is 'bad'.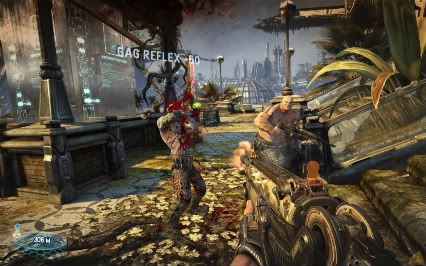 For the record: both were critically acclaimed. Not that I want to support either franchise. They are no better than each other in my eyes. To me they are two different types of gaming cancer and for now let's just stick with the one in the title, since it'll take a few years yet to cure the other one.
The basic premise of Bulletstorm is where it fell down for me. I remember reporting on it when it was first revealed at E3 a few years ago and described it as "An 18+ rated game meant for a fourteen year old," and that first impression was proved correct in time. Peppered with swearing, horribly sloppy parodies, jokes about balls or setting the anus on fire, the high-brow angle was clearly never the target market – but just how childish did they think older gamers are?
From here is where I rightfully believe that joy can be found in the poor sales of Bulletstorm. Gamers are proving that they are mature. The mature ones I mean. The ones the game was legally made for. Other than kids, of course it appealed to a small section of the 18+ market. Initially it'll have been anyone interested in Epic's connection to the game or the fact it's an FPS and they are the in thing, but they'll have called it quits at the demo. After that it'll be the ones who find farting funny (and thinking hard) that will have stayed interested. The Cliff Bleszinski market as I sometimes call it.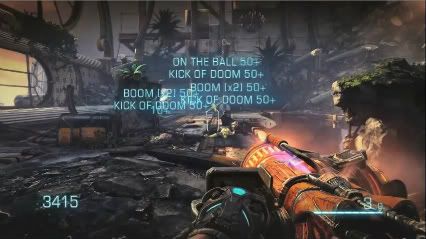 Bleszinski's direct influence in the creation of Bulletstorm is probably negligible, save the desperate attempt to give a new franchise attention by bundling in early access to the unnecessary Gears of War 3 beta, but that didn't stop him taking centre stage when it came to plugging it to anyone who would listen. It doesn't say much for the faith placed in a new game that should be able to stand on its own feet when you have to get the world interested through methods like that. While having no direct influence I do suspect outside influence, looking at Gears and thinking the same will happen for Bulletstorm if it's mentioned constantly enough. It's a fundamentally flawed business plan that foolishly made it all the way to market and proved that even Epic fans are not as easily led as previously believed.
It is both bizarre and unfortunate that Bulletstorm was a critical success with reviewers. Why? Because it creates a wonderful batch of excuses to be deployed as needed. "New franchises get no support!" "It didn't have Call of Duty in the title!" "It wasn't given a chance!" How about, "It was a poorly contrived game" or "Terrible writing and acting" or "Childish, generic FPS deserving to be forgotten?"
Gamers get blamed for being evil creatures of habit unwilling to try new things far too much. I've probably been as guilty of leaping to that conclusion on occasion – take for example Alan Wake which I enjoyed a lot but did less well in terms of revenue due to, I now believe, not really having a mainstream appeal rather than being an example of gamers not wanting to try something new.
Bulletstorm is one of many examples of why it isn't (at least the majority of the time) the case that gamers shy only from new or different since it's as generic and familiar as they come (I do not count shooting someone in the backside and having 'REAR ENTRY+50' appear on the screen as a non-generic gaming innovation). Why not look at the financial, that's financial not just critical, success of the likes of Limbo, Minecraft, Angry Birds and more – including Epic's own foray into smartphone gaming with Infinity Blade which I also enjoyed. Gamers do try new things and they make money if they are good enough.
Despite hating Bulletstorm and being glad that it didn't do well, that is not to say that I wish any particular ill on Epic Games or People Can Fly or that I am encouraging people not to try something that is (rightly or wrongly) classified as 'different'. It's a case of pick yourself up, dust yourself down, and try harder next time. Aim a little higher. Don't be so lowbrow. That is assuming that they can admit when they got something wrong and not try to make it out like it was the gamer's fault it failed. Locking the door any time Cliffy B visits the office is also probably a good idea. Just saying.