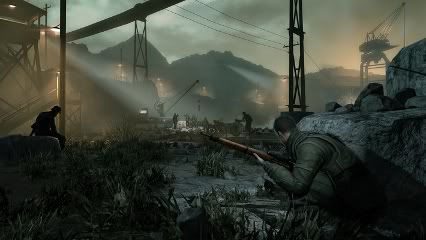 The competitive multiplayer mode teased in the last Sniper Elite V2 Twitter Q&A has finally been announced as a 12 player team deathmatch mode exclusive to the PC.
According to the forum post that announced the multiplayer mode the technology is still being worked on and there are more details to follow, but it states: "The intention is to support up to 12 players in competitive multiplayer."
It looks like console gamers miss out on the 12 player snipe-offs, but they will still have access to the game's online co-op modes. These include Kill Tally, a race to snipe as many enemies as possible; Bombing Run, where both players have to salvage vehicle parts to escape a bomb target; and Overwatch, where players must combine different skillsets, one as the sniper and the other as an operative. The campaign mode is also fully co-op enabled.
All multiplayer modes for Sniper Elite V2 have been confirmed as online only, with no split-screen support on any platform.
Rebellion's sniper game is slowly inching its way through the trenches towards its May 4 release date. You can find more information about the PS3, PC and Xbox 360 shooter on the game's official forums.