Nintendo Conference: June 5th 5:00am GMT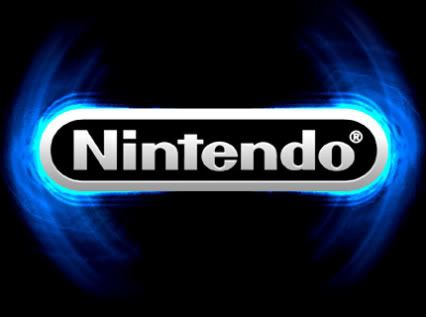 It goes without saying that this will mainly be about the Wii U and what it can do. From the Ubisoft conference I can say it will be nothing truly amazing, but at least on par with the current generation. Let's see what happens though.
The show preamble on the official feed features terrible whorish product placement staged conversations between two presenters about the things the show will be showing. Don't forget Twitter and Facebook.

Did I mention Twitter and Facebook?

Trending for a week Facebook and Twitter is amazingly important.

Hashtag a hashtag with a hashtag about Nintendo and Twitter.

Looks like an advert about Miyamoto drinking alone is starting the show. Oh and Pikmin are there.

Miyamoto has taken to the stage to talk about Pikmin, or at least attempt to. Oh good a translator is coming on stage.

Straight into talking about the Wii U as well here with the new black pad taking centre stage.

"When someone else is using the TV you can't access the game system." So is that why they made the Wii U?

That black pad looks so much like an overly large PSP.

Ease of use and implementation seems to be their selling point.

Pikmin 3 appears on the screen looks like a competent current gen game visuals wise.

New Rock Pikim which break hard objects are introduced.

You need to use the Wii Remote for precise moments and shaking the remote to charge. How does that include the Wii U gamepad?

Oh it shows that it will show a map. Didn't Dreamcast do that kind of thing about 10 years ago?

Ah, he's clarified you can play the game using only the Wii U pad.

Not my kind of game which makes this opening a little weak, but it seems a popular choice of IP to receive a sequel judging by audience reaction.

Miyamoto had a Pikmin in his pocket. There's a childlike quality to him that is annoyingly endearing.

Reggie comes onto the stage with an awful joke.

I assume he's here to handle the business stuff.

That was a dig at Microsoft there about them knowing to focus on games.

They are going to focus on games so there won't be as much about the Wii U as a bit of hardware.

You Tube, Amazon Video and more coming to Wii U.

Whoring Facebook some more. And Twitter. Oh and You Tube now!

A new disruption called isometric gameplay.

Wii U will support two game pads. That's kind of a given, isn't it?

A video plays and I can already tell it's in keeping with Nintendo's usual level of condescending advertising. Explaining the game pad in case anyone has never used a game pad before.

Now he's talking about Miiverse.

It looks like a very messy main screen filled with people.

How long till it's filled with adverts or pictures of genitals that your friends have drawn?

See or send simple text messages or draw with the stylus.

Eventually you'll be able to join Miiverse from the 3DS, PC and smartphones.

"You've got to have a Mario game." No, no you don't.

New Super Mario Bros U. is one of the worst game names ever.

Now it seems more like social aspects are their focus which is weird.

A gameplay trailer plays. Nothing new at all. I mean seriously. Nothing.

Oh, maybe some fat Yoshi baby things.

Boost mode is for speed runs with the Wii U pad user placing blocks for those using Wii remotes.

Batman Arkham City flashes up on the screen as the first of third party titles.

Harley Quinn addresses the audience and introduces Martin Tremblay of WB Games. His microphone is overly large.

Batman Arkham City Armored Edition. "A must have unique experience on the Wii U."

A demo plays showing using Wii U directing detective mode. And at that point the official feed fails for a minute or so.

The editions and implementation of the Wii U aspects don't look particularly interesting. The graphics don't look quite as good, but that may be down to the feed.

Great for people who didn't get the chance to play it, for everyone else nothing worth noting.

Scribblenauts is being spoken about next. It seems like a smart choice for the Wii U.

What the hell is up with that guy's bright red shoes?

Anyway, it's called Scribblenauts Unlimited and a trailer for it plays. I like the HD visual style they've gone with. It looks a little like Castle Crashers in terms of visual style.

In the video a man makes a dog-car. Because he can.

All new multiplayer mode.

Reggie is back with a lot of mic feedback at first.

A montage of more upcoming games for the U plays. Mass Effect 3, Tank! Tank! Tank!, Tekken Tag Tournament 2, Trine 2, Ninja Gaiden 3, and Aliens Colonial Marines.

It isn't going to be easy winning people over just showing current games already out that are also now going to be available on something else.

"The music and fitness genres came into their own." Yeah and that was your fault.

Reggie points out that people laughed at him and the Wii Fit. They still are, for the record.

He gloats a bit about how many copies of those Wii Fit games have sold then moves on to Wii Fit U and a brand new peripheral.

Wii Fit U sounds terrible if you say it out loud.

An innuendo laced commercial for the Wii Fit board using the Wii U game pad plays. Clever way to keep sales of those old peripherals coming, Nintendo.

Oh no here's the new peripheral that you must all buy or else the world will end. A Fit Meter to track exercise you do away from the game and Wii U.

"Everyone wants to be a rock star." Now I think Nintendo are going with the angle that if they say things enough people will believe it to be true.

Something about a Sing game. It's a working title. A terrible working title. I wonder if it'll be about singing?

This conceptual advert playing is cringe worthy and also infuriating. The person 'singing' clearly isn't really the one singing.

Why applaud that?!

3DS has fans? Okay, something for that next. A marketing guy is coming on to talking about it so get ready for some grade A garbage.

"Where's the love?" he asks as the audience remains silent and he has an awkward laugh.

A 3DS specific show will air tomorrow for first and third party. And of course it'll be on Facebook! Did I mention Facebook?

3 first party titles first. A new 2D super Mario game because the last one wasn't enough (I mean in revenue terms). New Super Mario Bros. 2.

The focus is on money which I find hilarious from an irony point of view.

Looks like Paper Mario is second. Paper Mario Sticker Star. Sounds like a must have game to me.

That was sarcasm, by the way. It doesn't transfer well in text.

Nintendo has invented stickers.

It's out this year.

And by the sounds of it Luigi is the star in the last game. Luigi's Mansion Dark Moon. Also out this year.

A montage of third party games now play. Castlevania: Lord of Shadow – Mirror of Fate, Epic Mickey, Scribblenauts Unlimited, Kingdom Hearts 3D and that's it. Amazing line up there.

Reggie is back and talking about Lego.

Lego City Undercover starts with a live action advert that also has some gameplay in it. I'm afraid I don't get the appeal of the Lego games and even less so when they aren't parodying a movie or game.

Anyway, it's out for Wii U at some point. There will also be a portable version which is in the works.

Reggie now talking about trying to appeal to everyone. The 'there's something for everyone' approach and then he mentions Ubisoft. CEO of Ubisoft takes to the stage to attempt English and stand too far away from Reggie for the camera to keep them both in frame.

I can only ever catch about one in five words he says but he's talking about the legacy of designing video games. Maybe.

Ah good he's onto the games. I wonder if AC3 will be one…

Reggie is being asked to be the puppet master. Isn't he that already?

Gah, it's another terrible dancing game.

I think Reggie is picking the dance moves they are doing.

Moving onto something else now. For 'hardcore' gamers.

It's Zombi U this time and a video plays which is very similar to a Resident Evil style trailer.

Shows that the Wii U game pad is a sensor for where zombies are and also for picking inventory. You can use it as the scope for your sniper rifle which is actually pretty nice. Less nice is shaking it to fight off a zombie since it's liable to go flying.

It's worth noting though that everything in this video is purely conceptual and that was all CG not actual gameplay.

Reggie gets made more attractive as the game pad turns him into a zombie.

A trailer for Ubisoft's Wii U games plays. It shows Rabbids land, Assassin's Creed 3, YourShape, Rayman Legends, Sports Connection, and Avengers Battle for Earth.

An advert for Nintendo's website plays.

'Nintendo Land' is on stage now with Reggie amongst some poorly made bits of set.

Katsuya Eguchi comes onto the stage to talk via translator about Nintendo Land. It gathers attractions from their popular franchises into a theme park of some kind. It sounds quite like Playstation Home.

The Legend of Zelda Battle Quest, Animal Crossing and Luigi's Mansion are amongst the attractions. As well as Donkey Kong. A ninja castle mini game is shown on screen. Visitors from all around the world will be able to visit it and there is Wiiverse integration.

Still not 100% sure how this is all supposed to function together or what people will do. But rather than explain that he's instead talking about how someone using a game pad against Wii remotes differs in their role to the other people.

Multiplayer Luigi's Mansion is used as an example. A strong ghost is chasing weaker players. It looks like Pacman from the outset with the top down view on the pad being used by the ghost player who can see all the players but the players can't see the ghost.

If the ghost catches a player they must be revived by the lights of the other players. If the ghost takes down all three then it wins.

I understand it a little better now in the sense of that example, but overall I don't think the concept of Nintendo Land was explained well.

A trailer plays that also doesn't explain much, but does look very…colourful.

Wii U is out this holiday season but wasn't specific and no mention of price.

I sense another plug of Twitter and Facebook coming.

Yup.

This is the wrap up, I think. It's hard to tell since Reggie delivers his lines so strangely. "Together. Better." is the Wii U message. And with that it is over and Reggie leaves the stage to another Nintendo Land video.
Underwhelming, but not as bad as other conferences which have gone before it. The Wii U hasn't captured my interest as far as a personal preference goes and the lack of a release date or price didn't help. The line up of largely first party games was disappointingly predictable.