Ubisoft Conference: June 4th 11:00pm GMT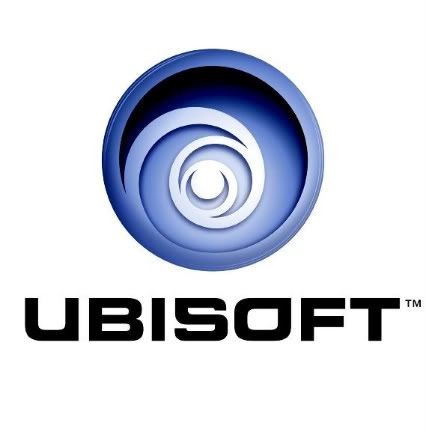 I'm hoping to see more of Splinter Cell Blacklist since it looked fairly interesting in the Microsoft conference. I'm sure there will be plenty of Assassin's Creed 3 but I'm not not sure what else. What I truly, truly hope is that this year there is no Mr Caffeine.
This smooth jazz mixed with alternative beats playing before the show gets started is terrifying me.

Big shout out to the guy who didn't know his microphone was on just before the show started. I think he was talking about picking his nose and then he swore. Fun stuff.

The show has started – at least I think it has. To someone singing and women in silhouette dancing around. Ah, a dance game. Those are clearly more popular than I am aware.

I find this acceptable if it's the alternative to the caffeine guy.

Still have no idea what game it is they are showing off, though. Now a rapper with his mouth too close to the mic is on and I think he might have swore, I'm not sure. Catching every other word at best.

Shame on the members of the audience that put their hands up when he demanded it and didn't think to raise a middle finger at the same time.

Oh it was Just Dance 4. There's really 4 of those now?

Aisha Tyler is the host this time. Acceptable. They have learned from last year.

There's some…internet guy (?) joining the host via backstage. Tobuscus. Is that a name? He's very like a diet Mr Caffeine which I find problematic…

Some generic gaming banter later we get started properly. After the host said everyone is a little bit gay. Okay. Sounds like Farcry 3 is first.

Yup. Dan Hay, the producer of the game, is on the stage and a friend to do a demo. After a very short speech we're straight into it…and he's touching up a topless woman. I think I see the direction Ubisoft is going in this year.

Some sort of tribal meeting is going on with the game's main character giving a speech about fighting back. After a fade to black there is proper gameplay in an impressive jungle area.

Underwater swimming graphics are impressive. It's easy to do those badly, as any Bethesda executive will tell you.

The player saves a woman from being raped and then pulls out a bow and arrow. It really does seem to be a year for using those instead of guns. Rambo would be proud of this guy.

The bow goes quite soon though and it's into generic FPS stuff and he guns down some enemies. A building he escapes into quickly catches fire and he makes a dramatic escape.

A tiger meets a grenade. Things do not go well.

It looks like the player is drugged via a stab wound by the antagonist that was torturing him last E3. A very trippy sequence follows with plenty of swearing to prove it's adult. And with that it is over.

There's a large number of islands to explore. A video plays to show them off and there's mention of multiplayer.

Splinter Cell Blacklist is next and I could really do without the painful banter between the host and the internet person backstage.

Confirmation of co-op from Conviction returning and once against stating Spy VS Merc is back.

A release trailer is being shown. Some kind of spider spy bot is shown among lots of terrorists being killed in this CG trailer.

The hosts crude jokes about things like getting 'girl wood' are wearing thin really, really fast.

"Girl wood number three." A trailer to do with Marvel is playing. It shows Wolverine fighting Venom, then Spiderman fighting Magneto and some more notable characters. Avengers Battle for Earth out later this year with Kinect and I think I saw Wii U in the list.

Oh the internet guy confirmed it.

Something to do with the Wii U next. Way to steal Nintendo's thunder. This better not be the bunnies.

Oh it's Rayman. Michael Micholic is here to talk about how many awards the last Rayman game won. He's talking about how they experimented with the Wii U and a video plays to demonstrate this.

"We're using early Wii U development kits."

It shows someone pressing the touch screen on the Wii U pad to move Rayman and his new friend on screen. If you've ever played with a smart phone in your entire life then you will be as underwhelmed as I am right now.

It looks a little awkward to constantly draw directions on the Wii U screen when you could just as easily use the analogue sticks for more precise actions. He states you can use the old Wii remote to play also.

There was a bit of fun with turning the pad to turn an obstacle in the way after attaching the new character to it.

There's a running mini game thing next playing a song when notes are hit. Not sure whether this is good or not. Weird. I'll go with weird for now.

The music reminds me a lot of the last Call of Juarez game.

Why were the zombies (?) dressed as old ladies?

Before they could answer my question they are gone and the incredibly fake, crass presenter is back. She's warning the next Wii U game is survival horror and M-rated.

A zombie apocalypse? This has to be Resident Evil surely.

Nope it's in Britain and a zombie red coat was going through a bus window there, because red coats drive those red buses in this country. Right.

I get the impression they are trying to eclipse the Dead Island trailer and really not doing a good job of it. The national anthem being sung over it isn't helping.

Zombi U is the name. The terrible, terrible name. Some actual gameplay would have been preferable.

A trailer for a few different things coming to Wii U plays next. It includes fitness games, raving rabbids, Sports Connection, Assassin's Creed 3.

Now they are onto the proper AC3.

A CG trailer for AC3 plays showing the two sides of the revolution fighting one another while an eagle sores around. He seems to be killing a lot of red coats. I thought he was supposed to be neutral in the war?

I was hoping for some actual gameplay, hopefully that will follow now as two more people come onto the stage.

Sure enough some gameplay begins. New England and it's very snowy. After a brief on the rails sequence it's into proper gameplay showing Conner leaping from tree to tree and then creeping in bushes.

Upon shooting a deer with his bow he attracts the attention of a pack of wolves. He dodges and uses his pistols and knives to dispatch them before running off.

He approaches an American camp and it looks like he picks up a passive quest as he went. He picks up information about a Templar target and then it's off horse riding through the snow.

At one point the snow is so deep he has to almost wade through it, so he takes to the trees to get away. A new hanging move is demonstrated as well as taking a human shield to protect against bullets. The close combat system is demonstrated as Conner quickly dispatches a squad of soldiers.

What I really like is that the movement looks even more a natural because points you can grapple up and so on aren't as obvious as buildings within a city.

The Templar target is within a small camp with a few wooden huts. Conner causes an explosion then quickly runs in and begins a short chase before killing his target.

Back on stage now to the internet guy being annoying and delivering a fake question from someone about whether the British will be mainly shown to be the villains.

The game spans 30 years, before, during and after the war.

Another trailer plays that I think accidentally played too soon already at the end of the stage demo.

Why bring the internet guy on stage? To talk about e-sports? Okay. Telegraphed pee break, people.

I think the host is regretting bringing the guy on stage. Like everyone else watching.

They spoke so long I still don't know what they are demonstrating now. Something about a shout-cast? Some famous Counter Strike player is on stage and she likes talking with her hands.

Whatever they are going to be playing it's a team of 3 girls and 3 guys that are all moderately famous gaming wise. I've never heard of any of them but they won't have heard of me so it balances out.

What game are these people playing?!

Oh here we go. Elite Mode for…for what? Ah – Shootmania, whatever that is. They seem more concerned with putting on a show and explaining the rules of whatever they are about to do rather than explaining the game and why people should be interested.

The guy team takes the first round. I have no idea what they did. Something about railguns and speed boosts. The guys take the second round also.

The girls take round 3. Still no idea what's going on really. Rounds that last about 20 seconds? I think only one person has the railgun each round or something. Guys win whatever it was they were just doing.

That thing will be free-to-play.

A trailer collage for 'Ubisoft Worlds Online' plays. Talks about building communities between games – presumably just an extension of U-Play.

Ubisoft co-founder comes to the stage to chat about a new project. A new IP that's been worked on for over two years.

"Who is really managing the world we are in?"

A video plays about a mass blackout in 2003. It skips to 2011 and a 'central operating system' which controls a whole city. That sounds like a terrible idea.

"You are no longer an individual, you are a data cluster."

It seems to be about all your information being on file and companies ruling the world. This isn't a game, it's real life.

Okay, we get it. Data about you that everyone has and so on – get to the game.

As that trailer ends still not sure what's going on. A green light shines across the audience and a creative director is on stage.

CtoS is apparently the name.

"The city becomes your weapon."

Here we go – proper gameplay. Opens with a 911 call and an angry sounding voice over.

It blends into a game that immediately feels and looks like a more realistic GTA style American city. There's high tech stuff going on though as the character seems to scan people around him as he passes. He's passing an art show and looks like he wants to get in.

He jams all communications in the nearby area and walks in the front door to the gallery. I'm quite liking the mature subtle style this seems to present – I'll be very disappointed if it goes all gun play suddenly.

Oh dear, a gun just got passed to the character.

Using his phone he listens in to an associate of the person he is there to kill (I think) and hears that he's on his way.

A bit of night stick related violence happens as the character makes an escape out the back of the gallery away from security. It's not raining outside and the graphics look even better.

Controlling the traffic lights he triggers a crash and stops the car his target is in.

Shooting begins. Time slows for some reason and cover based gun play ensues. I must admit it does look good but all subtly is gone at this point.

After dispatching the bad guys he pulls his target out the car and then shoots him.

The game switches to someone also hacking and that seemed to be stalking the first character. The on stage guy is now playing as this second person briefly before the demo ends.

Watch Dogs is the name of the game and the audience seems to like what they have seen.

Terrible duo is back trying to do something that may resemble hosting and probably wrapping up the show. Yup, you can leave now or wait for the host to swear and walk off stage. That's fine too.
Ubisoft probably had the most interesting conference. Interesting is me being polite. Still, I know people will like what they saw of the breasts in Farcry 3 and I liked what I saw of Splinter cell, Assassin's Creed and Watch Dogs to some degree. Might be the leader so far this year for best conference (large part of that is down to the low standards of what has already been presented).