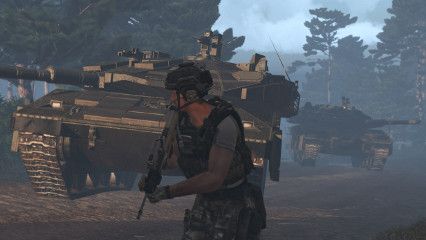 Just when you thought it was safe to pop the hatch on your tank and smell the breeze, Bohemia Interactive had to go and announce the release date of its latest military shooter, ArmA 3, as September 12.
This is the latest game from the original creators of Operation Flashpoint, so it's safe to assume that these genre veterans have gone to some length to make this an authentic military simulation that's filled with tactics and explosions.
ArmA 3 is set to feature the series' largest battle area to date, with over 300 square kilometres in which to run, drive, fly and boat around. Players will be able to climb into more than 20 different vehicles and wield over 40 weapon types when bringing the pain to their enemies in offline missions as well as online competitive and co-op multiplayer modes.
Alongside the news of an etched in stone release date, we also have details of the Limited Deluxe Edition retail version of the game. As well as a shiny new copy of ArmA 3, this edition also includes a special key card, a detailed map of Atlis Island and a printed game control overview, all wrapped up in a neat hologram slip case. You'll also get digital goodies including the soundtrack, a tactical guide, maps and a copy of ArmA Cold War Assault.
With less than a month to go before Bohemia's third stab at realistic, open world military might on PC, we think it's time you sharpen your rifle and reload your bayonet (or something like that).