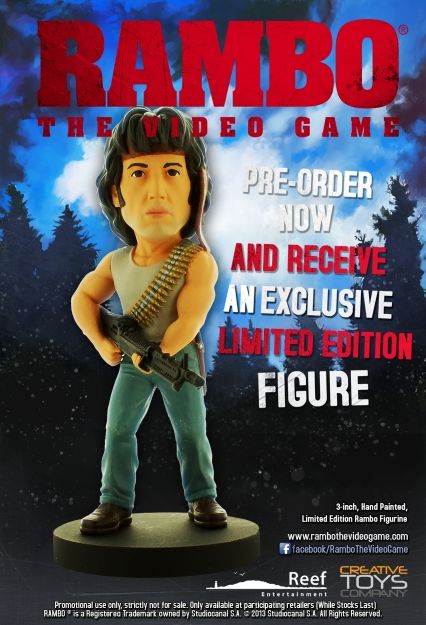 The media hasn't exactly been inundated with details about the upcoming Rambo videogame, which means many/most/all of you will have held back from pre-ordering. Here's something that will break the will of an avaristic Sly fan; an exclusive Rambo figurine!
There are two figurines to be exact, one based on the Rambo of the first movie and one based on the (arguably identical) Rambo of the second movie. The chap at the top of the page is debut Rambo, while the fellow below is taken from Rambo II (by which point he appears to have swapped his vest for a rocket launcher). Only one figurine will be provided per pre-order, and which you receive will depend on the store you order from. Australian gamers can get hold of warm shirted Rambo by pre-ordering with JB Hi Fi, while they'll be able to get cold, shirtless Rambo by placing their order with EB Games. Participating retailers in other nooks and crannies of the world have yet to be announced at time of writing.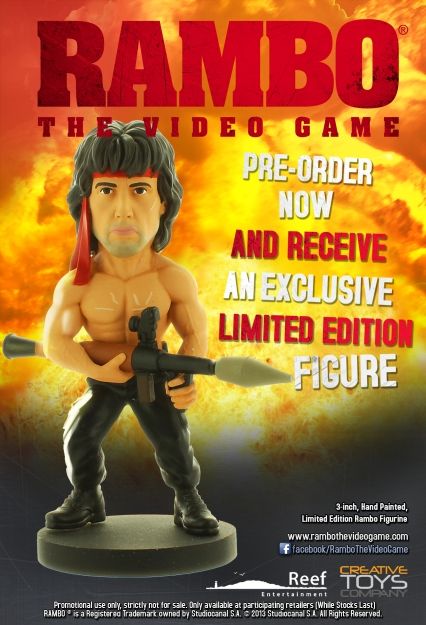 The game is based on all three original movies, but only figurines (three inches of bobbleheaded masculinity) from the first two will be available. Or will they? Will another region perhaps enjoy the choice of another figurine from the third film? If so, following trends from the existing two, the third would depict Rambo (1) looking like he's just walked into a room but forgotten why, (2) standing in just his shoes and pants, and (3) carrying a nuclear warhead. You heard it here first.