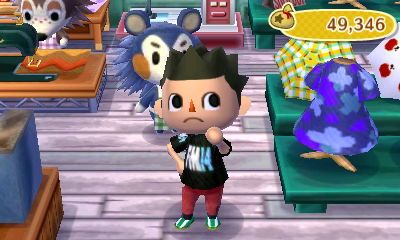 Once mortal enemies, Nintendo and Sega have been BFFs for most of the 21st century. We've even seen more than one game where Mario and Sonic star side by side, unthinkable during the last generation; remarkable even if, disappointingly, said games turned out to be Olympic tie-ins. Despite this newfound love between the companies, only a madman would have predicted the latest twist in the relationship; the latest Animal Crossing is helping promote the latest Football Manager.
As the Sherlocks amongst you will already have guessed from the image above, there is a Football Manager 14 flavoured shirt to be had in Animal Crossing: New Leaf. If you want one – and you do of course because, regardless of your interest in Sega's game, the shirt is free – all you need do is scan a QR code with your 3DS. The QR code we have helpfully placed below for you, in fact.
Will Sega reciprocate? Will we see elements of Animal Crossing in Football Manager? KK Slider providing entertainment at half time perhaps, or Resetti popping up to yell at players who rage quit when a match isn't going their way. Redd could hawk meats of dubious origin to the crowd, Tom Nook could act as a go-between when spending extortionate amounts on player transfers, there could be a mini-game where you shake trees to gather oranges for funds… the possibilities are endless (if not terribly appealing).
Oh, and here's a video explaining Football Manager's revamped news system.