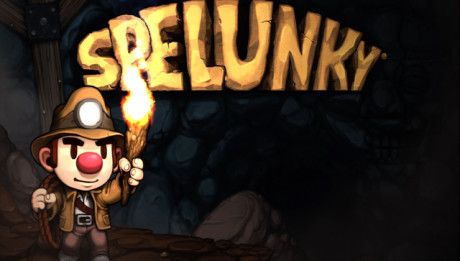 Format: Vita/PS3 (PSN, version reviewed), PC, 360
Unleashed: Out Now
Publisher: Mossmouth
Developer: Derek Yu/Blitworks (PSN)
Players: 1-4 (offline only)
Spelunky is made up of less than two dozen stages. Each of these stages is fairly small and you can, if you wish, take the quickest route to the exit each time ignoring everything that doesn't threaten to kill you. Does that sound easy? If it does, you have never played Spelunky.
We're being a little frugal with the truth, of course. One of the main selling points of this game is that each and every stage is randomly generated. You begin at the top and the exit lies somewhere at the bottom, but that's pretty much all you can guarantee. Die, and you'll respawn at the top of a stage with a completely different layout – it really isn't ever the same level twice. The layout of the level and everything within it – pickups, enemies, hazards – will always change. And even then, it's not always the same assets that are being moved around.
Stages are grouped into four areas (including a slippy-slidey ice level) but that's all the consistency you'll get. You might come up against zombies instead of cavemen, the whole stage might be plunged into darkness (ignore the flaming torch at the entrance at your peril), a giant tentacled alien may or may not be waiting below to impede your progress… and much more. Given how much can and will vary in various playthroughs, it's impressive indeed that the stages are always coherent. Somewhat inevitably though, this does sometimes result in entirely unpredictable difficulty spikes; though conversely, you don't become good at a certain level – you become good at Spelunky.
The unpredictable nature of the levels is countered, to a degree, by the tools you are given. You start off with four bombs and four ropes. Bombs can be used to kill enemies, but are more wisely used to blow chunks out of the scenery to create new paths (besides, you have your trusty whip for killing). Ropes can be placed to either climb or descend, and stay put once placed. Useful for otherwise damaging drops or for reaching those out of reach places. Extra ropes and bombs can be found inside crates or bought from a merchant – but again, placement (or existence) of crates and the merchant, as well as crate contents and merchants' goods, are randomised.
Crates and merchants can also be sources of rare items that make your life much easier such as a shotgun or – yes – a jetpack. You'll be grateful of anything that can help, as this is a game which doesn't go out of its way to forgive mistakes. You start off with four hit points, with an extra one to be earned each time you rescue whoever needs to be rescued (a woman by default, though you can change this to a man or – our choice – a dopey looking dog). Most enemies die with one hit, but you can too. Try jumping on the head of the wrong enemy, fall down a bottomless pit or onto a spike, or step too close to certain hazards and you will die. Not only that – you'll have to restart the game from the beginning. Well, if you've unlocked a shortcut to one of the areas and jumped in from there, you can restart where you entered; but you'll be denied access to the leaderboards playing this way.
Now we've not mentioned what Spelunky is arguably all about – the treasure. Regardless of the stage layout, there is plenty of treasure to be had. Jewels and gold lying around, promising sparkles in the walls just begging for you to sacrifice a bomb, and even super-valuable idols that will set off some sort of trap when you grab them, hoping you can keep hold of it all the way to the exit. You can only carry one thing at a time, too; you can only carry a special weapon or a super-valuable or a rescuee. Of course, once you've dropped one thing, you could always retrace your steps to pick up something else – if you're confident of surviving. What's surprising is how quickly you'll likely become addicted to maximising your dollar count before deciding it's best to cut your losses and run.
The PlayStation version features both cross-buy and cross-play. A nice offshoot of this is that if one person plays on the PS3 and another on the Vita, you can both explore stages separately rather than having to stay within the same screen confines (as with other versions of the game). How many people playing this way, we wonder, will be able to resist wreaking torturous havoc for the other person…
As good as Spelunky is it requires patience and perseverance for long-term appeal, meaning it isn't a game for everybody. Those prepared to put the time and effort in though will find a fun, fiercely addictive game that they can theoretically keep playing forever.