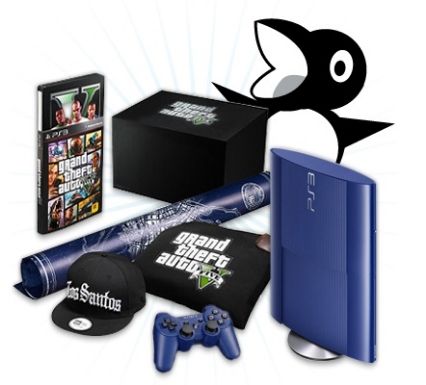 Just a handful of days, and then GTA V will be unleashed upon the world. Featuring a ridiculously gigantic map and three playable characters – not to mention a staggeringly ambitious online mode due to launch at the beginning of October – it's set to break all sorts of sales records. Whether you've got your pre-order in or not, you may well be interested in getting your hands on a copy of the preposterously overpriced collector's edition for free. If so, read on!
Music Magpie, who will buy your unwanted entertainment guff in bulk through the magic of the interweb and couriers, are running a GTA V competition. First prize is a collector's edition of the game (that's the £149.99 RRP one) as well as a PS3 to play it on; a PS3 in an undeniably attractive shade of blue, no less. Second and third prizes are special and standard editions of the game respectively, both on PS3. No purchase – or, indeed, sale – is necessary to enter, though you will need a Facebook account. For full details of the competition (which ends September 17th, a date you may recognise) including how to enter and a link to full terms and conditions, click ye here.
We're sorry to report that the giant bird in the image above is for illustrative purposes only, and is not included in any prize tiers.