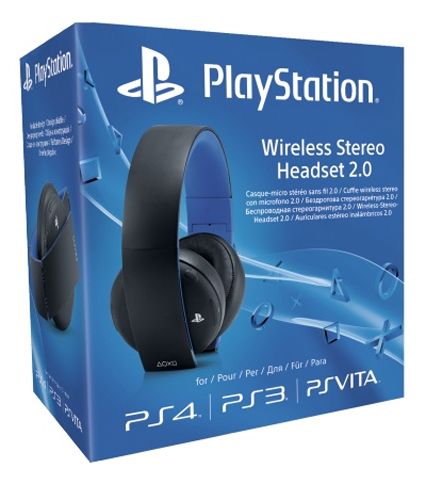 Buying a new headset for your console can be a fraught experience. There are so many different configurations to consider. From stereo and virtual surround sound to Dolby 5.1 and 7.1 surround sound, as well as whether you want to go with a wired or wireless setup. Not to mention all the different makes at prices ranging from £20 to £200+. It can be a minefield looking for headphones that best suit your needs.
While searching for a new headset, I did a bit of research on various models like the Turtle Beach PX4's and the Skullcandy PLYR1's, which are both wireless Dolby Surround Sound headsets. While both looked ideal for what I wanted, they still had to have wires going from the PS4 to a wireless transmitter box, and also a chat cable to the DualShock 4. While not a deal breaker, when you have a near three-year-old son running around, the less cables lying around the better. This is what led me to looking at Sony's first official headset for the PlayStation 4, the catchily titled Sony Wireless Stereo Headset 2.0.
What attracted me to them was the simple setup. All you need to do is insert the included wireless dongle into your PS4 or PS3 USB port, and turn on the charged headset. The blinking lights on the dongle and headset signal that pairing the two together is complete, and you're basically ready to go.
The headset itself is quite nicely designed, and has a black plastic headband which has a blue plastic and faux leather padded inside that sits on your head. The ear pads are black faux leather, with the controls sitting on the left ear pad. These controls consist of the VSS (Virtual Surround Sound) on/off button, a Volume toggle, a Mute button, which is also used to turn on voice monitoring, so you can hear yourself talk, and save you from waking the household by shouting like a demented Dom Joly. There is also the on/off switch, which has two settings. The number 1 setting is the basic setup, while the number 2 setting is used for bass-boost or custom settings. There is also a Chat and Sound toggle which lets you balance the chat volume with the game sound. There are two ports on the headset. One is used to charge them with the included, but quite short, USB cable, although you can use the DualShock 4 charging cable as well. There is also a standard headphone port to enable you to use the headset with your Vita, iPod or Smartphone. The headphones are light and fold up quite neatly, although they are perhaps not as sturdy as some other competing headsets. Trying to adjust the controls while wearing the headset is quite tricky, and I found it much easier to take them off, so you can see what buttons you're pressing.
The headset is very comfy to wear, even when I tested them with 3D glasses, and over several hours of use. The leather ear pads can make your ears quite warm with prolonged use (handy in the winter!) but it doesn't really cause any problems. The battery life is also very good, with the official figure sitting at 8 hours, although  managed roughly 6-7 hours when used for a combination of gaming and movie watching. When it comes to performance, the Sony Wireless Stereo Headset 2.0 performs admirably, with a nice balance and range of sound, that is also really clear, and doesn't sound muffled or have any annoying crackling or popping background noise. Chat also sounds great, with my friends' voices coming over loud and clear, and my voice also sounding good [not that he likes to blow his own trumpet – Ed.]. There is no boom mic with these headphones, with a tiny hole on them housing the mic instead. The lack of a boom doesn't hamper the quality of the chat function, and stops you looking like a telesales operator, and is one less thing to break. The VSS works really well, and I was able to pinpoint enemies quite accurately, and hear approaching enemy footsteps which helps improve your game. It might not have the broader or richer sound of official Dolby headsets, but it does a great job at mimicking it. I was slightly disappointed that the mic monitoring is pretty low even on the high setting, but perhaps a firmware update will give you the option to up the volume slightly. Another thing to watch out for is the sound/chat toggle, which affected the maximum volume when we watched a movie, and we had to up the sound level on the toggle to enable us to increase the volume of the film.
There is an app for the headset on the PSN Store, which adds some extra functionality to the phones, and gives you the option to tweak the Bass, Mids and Treble, along with profiles tailored for Shooters, Horror, Movies etc, and some designed specifically for certain games like GTA V, The Last of Us and Infamous Second Son. I really liked the Shooter profile, which had a suitably bombastic soundscape for shooters like Battlefield 4, and plenty of bass for those massive explosions; and the Infamous Second Son profile really helped add to the immersion in the game world.
While you get the surround sound capability with the PS3 and PS4, you can also connect them to a PC and Mac with the USB dongle, although unfortunately the sound mix is only in stereo rather than VSS. The phones also come with a 3.5mm connector cable, which makes them compatible with virtually any other device that has a headphone connector. If you have a PS3 and PS4 it's a doddle to move your headset from one console to the other by simply plugging the dongle in, while other surround sound cans would require you to switch wires at the back of your consoles, which could be quite a frustrating experience.
If you're in the market for a wireless surround sound headset at less than £100, then the Sony Wireless Stereo Headset 2.0 certainly fits the bill, and gives you a lot of features at a fantastic price. If you're an audiophile with plenty of money to burn, then there are better headsets on the market; but for ease of use, connectivity, and the freedom of wireless, you'll not get better in this price bracket.