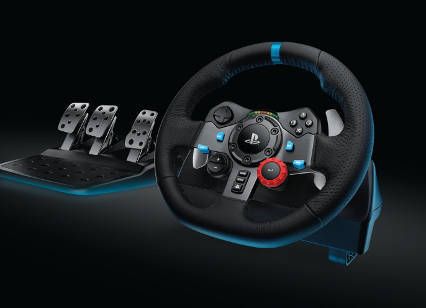 Any Google search will tell you that Logitech aren't short of fans when it comes to their racing wheels, especially the much-loved G27. Such people are sure to rejoice with today's unveiling of the Logitech G920 and G29 that finally bring the manufacturer's Driving Force wheels to the Xbox One and PS4.
Both look and function in a largely similar way, with the PS3 and PS4 friendly G29 sporting the familiar PlayStation logo at its centre, whereas the G920 for Xbox One has Microsoft's standardised button layout. There are a few differences, with the G29 sporting a few extra bells and whistles including LED gear shift indicator lights and a 24-point selection wheel, but the underlying build is very similar.
"Our fans have been asking for a PS4 wheel since launch of the system," said Ujesh Desai, vice president and general manager of the Logitech gaming business. "For the past 18 months we have been working with Sony to deliver a fully-licensed racing wheel and I am excited to announce it today."
Of the G920, Ujesh also said, "The G920 is the wheel fans have been asking for on Xbox One. We built on our history and legacy of previous generation driving wheels to deliver on a truly immersive experience for Xbox One gamers. I personally can't wait to get behind our new wheel to play Forza Motorsport 6."
Both wheels feature realistic force feedback utilising a dual-motor system that brings to life every weight shift, brake fade or tyre slip felt on the track. They also include a responsive three-pedal floor unit with integrated throttle, brake and clutch pads. Everything features built in clamps and grips to keep it all squarely where you need it, so no worries if you drive like an excitable three year old in the front seat of daddy's car.
If you'd like to get your hands on one of these wheels then you'll need to ante up a fair chunk of your race day winnings, with an RRP of £299 attached to each wheel set. They do however both work with PC as well as your console of choice, so you will only need the one wheel to switch between your computer desk and console den.
The PlayStation flavoured G29 will be available in July, whereas Xbox users will have to wait a little longer for the G920 which is expected to screech out of the Logitech garage in October.