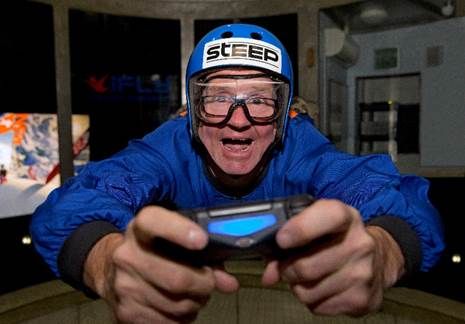 It's the most obvious piece of PR that we never saw coming. To help promote Steep to UK peoples, Ubisoft has enlisted the one and only Eddie 'The Eagle' Edwards to play and talk about the game.
Oh, sorry, did we forget to mention the fact that he played the game in a vertical wind tunnel?
For the young and the non-British who may be unaware of who Eddie The Eagle is, he's well worth a Google. In 1988, he represented Great Britain in the Olympics for ski jumping – the first person to do so for almost 60 years. As such he set several records, despite finishing last in the 70m and 90m events. He very much deserves the title 'national treasure' (much more than that iffy Nicholas Cage film, or indeed most of the other 687097079 films Nicholas Cage has appeared in).
Eddie's fairytale story of a somewhat unqualified person achieving worldwide fame by competing in the Winter Olympics prompted the IOC to become right spoilsports (ironically) and change the rules regarding Olympic competitors so that only experienced professionals would be able to compete in future. That's not to say that Eddie is useless – far, far from it. He holds the world record for stunt ski-jumping over six buses, and we wouldn't flippin' fancy trying that.
So; Eddie was called in to take "the Steep challenge" by playing one of the game's courses via virtual wingsuit, while he himself was in a very real wind tunnel. He even finished the course in a medal position, and now has another world record to his name due to being the first person to play a videogame in a vertical wind tunnel. He's already not the only person to do this though, as two pro skydivers also took "the Steep challenge".

Said Eddie The Eagle: "I couldn't wait to give it a go. I love a challenge but this was unlike anything that I'd ever tried before. As soon as I started playing, I was determined to glide past that finishing line."
Steep shall be made available unto the masses in less than 48hours, on Friday December 2nd. Wind tunnel not included.