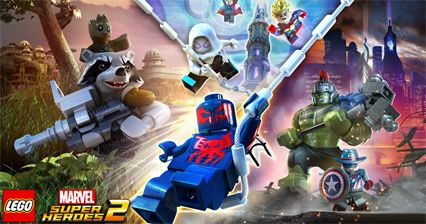 Warner Bros and TT Games have just announced a new LEGO game, with the surprise unveiling of Marvel Super Heroes 2. The teaser trailer below, which was uploaded to the LEGO Marvel Facebook page, features the super cute Baby Groot along with Doctor Strange, with a full trailer promised for the 23rd May.
The original LEGO Marvel Super Heroes was released back in 2013, and is regarded as one of the best in the series. The game had a much larger character roster than the 2016 title LEGO Marvel Avengers (which stuck to characters from the Marvel Cinematic Universe) while LEGO Marvel Super Heroes also included characters from (for example) X-Men and the Fantastic Four. The game's main villain will be the time-travelling Kang the Conqueror, with playable characters including Cowboy Captain America and Spider-Man 2099, along with the regular roster of characters you would expect. It will feature a new hub world Chronopolis, along with levels set throughout Earth's history including ancient Egypt and the Wild West; and also the planet Sakaar, which was part of the Planet Hulk storyline.
It seems to be borrowing ideas from LEGO Dimensions, with characters from different universes and time zones all coming together to fight the main villain of the game. It also borrows the four player competitive battle arenas from LEGO Dimensions, and will feature a branching narrative, which is new to the LEGO game series. The game will be released on PS4, Xbox One and PC on 17th November, with a Nintendo Switch version also due before Christmas.