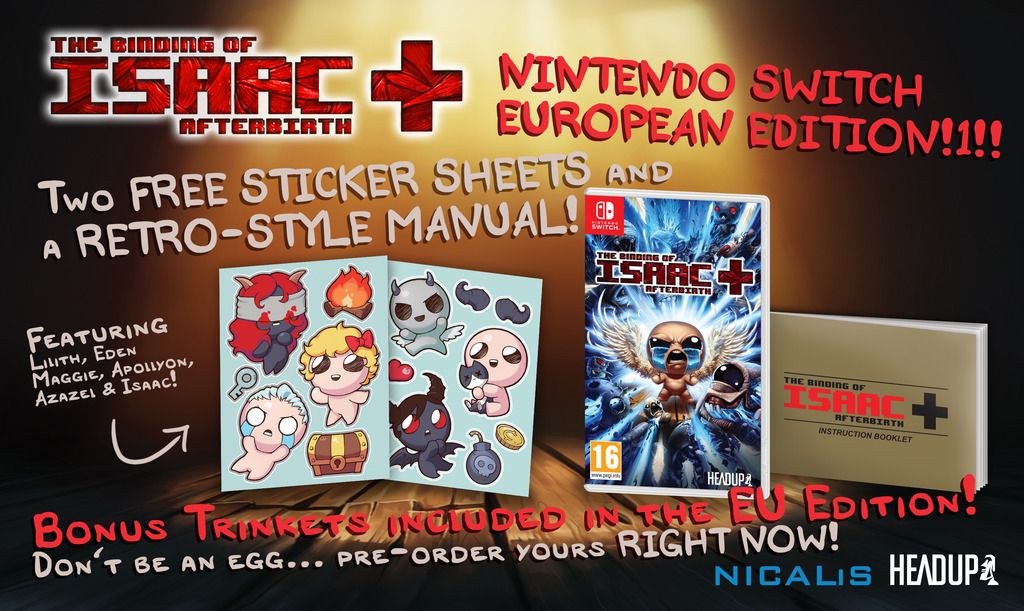 Videogame packaging has evolved significantly over the years. It used to be all about the cardboard; the elders amongst you will remember that each new PC game used to come in a box the size of a moderately large caravan. Physical games (when you can find 'em) now come in pretty small packages. Small packages, sadly, with no physical game manual.
Until now!
As Headup Games are happy to admit in the press release, they "have been quiet for way too long" when it comes to details of the much-delayed EU release of The Binding of Isaac Afterbirth + on Switch. But now, they have declared a release date of 7th September. Even more importantly, the EU package will come with two sticker sheets and… yes… a physical manual!!! A million huzzahs and hurrahs! Will it have that infamous new-manual smell? We can only hope.
As for the game itself, chances are you already know of this freaky little game. It's a ruthlessly difficult, randomly generated shooter where you play as a young child running from his maniacal religious fundamentalist mother into a basement full of monsters and lost relatives. Yes, really. It offers 20 possible endings, 13 characters, loads and loads of bosses, and online leaderboards. Switch owners in the EU have had to wait a very long time for their turn, but it's finally coming.