We felt bad interrupting Playlogic while they were putting the finishing touches to Fairytale Fights. They were hacking kittens apart with meat cleavers, to ensure they'd captured cute characters meeting a gory end properly. We had so much fun when we joined in, we almost forgot the questions.
CG: Why did you go for bright cartoony graphics rather than, say, the dark twisted visuals of American McGee's Alice?
PL: We were heavily influenced by popular cartoons such as Itchy & Scratchy from the Simpsons and Ren & Stimpy. Also we wanted to have this contrast between gory violence and a very cute, colourful Fairytale World..
CG: Who or what influenced the art design?
PL: Apart from the above mentioned cartoons we have been influenced by Happy Tree Friends and European fairytales
CG: How and why did you first decide to make this game?
PL: Three years ago a small crew at Playlogic Game Factory had the idea to do something wacky with fairytale characters. They started prototyping with a skeleton crew and when we (the publisher) saw a CGI movie that explained the concept, we were sold! The benefit of using fairytale characters is that everyone can relate to them and you don't have to explain a back story. The way we use them is completely different then what you know of these characters. The game has been in development now for 3 years.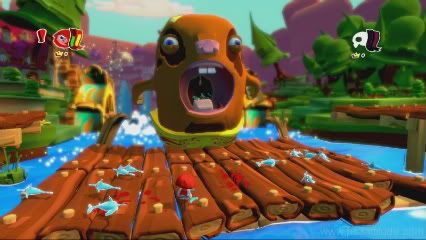 CG: Many, if not all, traditional fairytales and children's rhymes have their roots in sexual imagery or gruesome violence/death. Was this a factor in the conception of Fairytale Fights? Can we expect to see any references to the origins of the characters' tales?
PL: Yes to some regard, but our fairytale is a unique story. What we have basically done is to use all known features and characters from these fairytales and mix 'm up a little. The violence is however mostly influenced by cartoons rather then fairytales.
CG: Red Riding Hood features prominently in the trailers and gameplay footage released thus far. Why push this character to the forefront in your advertising?
PL: It was the first character we have had and she is really feisty. She walks around as a ninja and it is not the kind of girl you want to mess around with….let's just say she isn't afraid of the big bad wolf!
CG: Do you anticipate any controversy, putting characters and stories which are now intended for children into a game which is not?
PL: Are fairytales really intended for children…I don't know. I think we will be ok on the controversy part because everything is so over-the-top…tongue in cheek.
CG: What is your view on censorship in games in general? Is the PEGI ratings system replacing the BBFC one for games a good thing or bad?
PL: For the publishers PEGI is certainly a step forward. For Europe we had to submit to three rating agencies PEGI, USK (Germany) and BBFC. Any centralization is a huge benefit, because it saves time and costs. We can laanch the game in Germany, which has always been our biggest concern, so we are very happy with that. USK is notorious for banning games, even more so then the BBFC. I think that the tongue in cheek humour in the end saved our day.
CG: Why did you go for a beat 'em up style game, rather than any other?
PL: It is not really a beat 'em up, more a hack 'n slash platformer. We wanted to make a game that is easy to pick up and play. Due to our intuitive control scheme anyone can play this. Basically you can play the game by using your two analog sticks. One is used for moving your character, the other controls your character's arm, which enables you to dynamically slice objects (enemies) in real-time.
CG: This isn't a concept you can take very seriously, which you obviously aren't. How big a part will humour play in Fairytale Fights?
PL: We think it is the USP of this game. The contrast between this cute, colorful world and characters who are beating and slicing each other up is just funny
CG: If you could fight any fairytale character, who would it be and why?
PL: Humpty Dumpty….It would be so easy!
CG: Do you plan a sequel, with different fairytale characters?
PL: My lips are sealed
CG: What else does your studio have planned for the future?
PL: We are working on projects for SCEE such as Eye Pet and we are working on DLC for Fairytale Fights.
If you're a PC, PS3 or 360 gamer, you might want to head over to www.fairytalefights.com to see why we're intrigued…