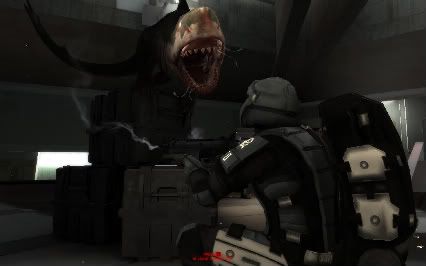 Following on with our interview with Interstellar Marines developer Zero Point Software, they've now opened up the Vault over at http://www.interstellarmarines.com/
The Vault is described as an in-engine preview concept of some of the characters you'll meet in Interstellar Marines and runs directly through your browser.
Zero Point believe their fans are not to be taken for granted and that potentially the Vault could change the way in which games are marketed. Game Director Kim Jørgensen had this to say: "Screenshots and videos are so last century. We're making a big budget interactive game, and I for one expect our community to start the journey through this interactive experience a long time before the game launches, in fact our business model demands it!".
The Vault opens for premium members of the community today, unlocking for the general public on October 11th. We here at Critical Gamer have had a sneak peek of what you'll be able to find within.
Once inside the Vault you're given a glimpse of the Interstellar Marines whose boots you'll be stepping into, as well as some of the foes you'll presumably be pumping full of lead. We're particularly intrigued by the nasty looking shark creatures, who feature prominently. Much of the Vault's content is still locked, with timers ticking away until we're allowed through the doors, but you can certainly get a taste for the games setting.
So far the Vault seems like a unique and involving way for Zero Point to show off their game. It certainly beats reading walls of text and there's a nice feeling of interactivity and graphical fidelity that is often lacking in trailers.
Interstellar Marines is being developed for PC, with plans to release on both Xbox 360 and PS3 at a later date.