Format: Xbox 360 (version reviewed), PS3, PC, PSP, Wii, DS
Unleashed: Out now
Publisher: Ubisoft
Developer: Ubisoft Montreal
Players: 1
Site: www.avatarmoviegame.com
Wouldn't it be nice if, just for once, a movie tie-in game wasn't a complete and utter load of toss? If someone somewhere at the decision making end of the movie videogame marriage said, I've had a brilliant idea, we're going to make a game that is so good everyone will think the movie was made afterwards!
Yes, of course it would. And now let's all come crashing back down to earth so hard our knees become suffused with our chins, because, surprise surprise, Avatar is yet another in a long line of bog standard movie tie-in fiascos.
Christ knows what the plot of the movie is, but if it's anything like the plot of the game then Christ, at the Jerusalem screening of Avatar, is going to be wishing he'd stayed up on that cross rather than sit through however many hours of this no mark nonsense. After five years asleep, drifting through space, you arrive at your final destination to be greeted by the botox filled face of Sigourney Weaver. Not that Sigourney's had any botox treatment as far as we're aware, it's just that her computer generated profile only seems to have jaw muscles. Which means when she talks only the very bottom of her face moves – if you were told that they'd just nailed a chinless papier mache version of her face to an animatronic jaw you could forgive this sloppy CGIing, except no one says anything about her inanimate features at all. You're just left feeling slightly embarrassed for her and wondering where you should look.
The suggestion is that this is a beautiful game, graphics shimmering in HD sunlight, pixels made from pure Bob Monkhouse teeth. So whoever shuffled up beside us at that preview cocktail party and whispered sweet enticements about how gorgeous this game was going to be needs a severe slapping. Visually, Avatar's not all that. Like the girl who only looks hot because she's hanging around with the fat bird and the spotty one.
But anyway, back to the actual playing. So after you've wandered around pointlessly, meeting key people and getting to grips with shooting and stuff, you get to the supposedly thrilling part of the game where you are given your avatar – which means that your mind and soul are transplanted into the body of a twelve foot tall, bright blue, alien humanoid. Not that your size makes any difference to the gameplay. The only time you'll notice it is when you're standing next to regular humans. The hope was that you'd be able to switch between these two states, massive blue alien with a host of twee, stoneage melee weapons, and regular-sized macho soldier, armed to the teeth with space-age guns.
Those hopes are dashed the moment you're faced with this decision: are you going to play as a genocidal human or an eco-friendly, oppressed alien? As it turns out, the only real differences between the two are the weapons and vehicles. As an alien you can use both long range arrows and crossbow bolts as well as clubs and sticks and other nasty, head staving stuff. As a human you can only use guns – there are no melee options. To make the killing a bit more thrilling they've given each type some extras, like calling in airstrikes or making yourself three times as hard for a short spell; but since these additions bring the button command count up to something like 14, it's very rare that you remember to use them, and even rarer that you remember which one does what and what button it's assigned to.
So what if you do play this long enough to get comfortable with the set up? What's it all about? Quite simply, it's a big battle for the planet. Which means you follow a tepid, linear route that's littered with tedious missions, most of which see you going from one spot on the map to another on the other side, killing things on the way until you finally complete something that was so unsatisfying to finish you don't even notice it's over.

The vehicles, some of which do look pretty cool – like the flying lizards, the twin rotored helicopters and the big steel robot rigs (like the ones in Cameron's first Weaver collaborative movie Aliens) – turn out to be more annoying than anything else. The choppers inexplicably only go up so high, just to stop you easily going from one place to another; the lizards are an utter bugger to control, so much so that you'll choose to walk it if it's at all possible; and the big robot skeletons just aren't as cool to use as they should be.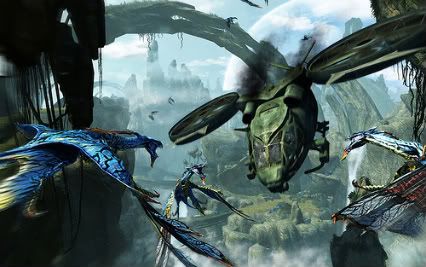 Tacked onto the end of all this mediocre third person dullness is a strategy game where the points you make in the solo game allow you to buy more troops and so conquer more parts of the planet. And the less said about that the better. You might be lucky enough to never stumble upon it as it's tucked away in a place you won't be looking for it.

Either way, the entire game is just boring. Every minute of play is accompanied by a little voice in the back of your head asking why you're bothering to do this when you could be sitting in the garden looking for falling meteorites to stand underneath. But then, should we be surprised that a blockbuster movie videogame is a complete waste of time? Only if we're also surprised that Father Christmas isn't actually real and that big jolly man in the red suit you saw your mum fondling was actually your dad, drunk, thinking he might get some Chrimbo action in this get up. The desperate twat.

4/10