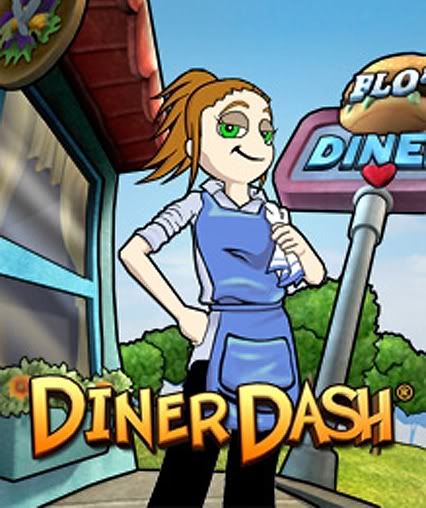 Format: WiiWare (version reviewed), PSN, XBLA, iPhone, iPod Touch, PC, PSP, DS

Unleashed: Out Now
Publisher: Hudson

Developer: PlayFirst
Players: 1 – 2
Our regular readers may realise that this is, in fact, the third time we've reviewed Diner Dash. This is not because we suffer from severe memory loss; nor is it because we suffer from severe memory loss. Every time the lovely people at Hudson publish it on a new format, they send us code to review. So here we go again…
Each of the many home versions of Diner Dash suffers from one simple yet slightly embarrassing problem; you can play the original online version for free on your PC on a ten day trial. This is a problem because ten days is more than enough to finish the career; and not everybody will want to go back once they've done that. Just thought we ought to get that out in the open straight away.
The console versions haven't strayed from the game's simple origins, and the Wii version is no different in that respect. The basic premise is that as resteraunter/waitress Flo, you need to deal with the customers that come into your Diner as quickly and effectively as possible. The process for dealing with a customer is as follows: seat them, take their order, deliver their order to the chef, take the food to their table, give them the bill, clear the table. Despite this Operation Flashpoint level of realism, things aren't quite as straightforward as that.
You have to wait for customers to finish one stage of the process (i.e. eating their meal) before you can move on to the next. While you're waiting, you'll find that another set of customers is ready to give their order; or that the queue of customers waiting to be seated has steadily increased; and so on. The pressure comes from the line of hearts above each set of customers, which indicates their satisfaction. Ignore them when they need seeing to for too long, and the hearts decrease. If the hearts disappear altogether the customers leave, incurring a hefty cash penalty.
On top of that, there are different types of customer (incidentally, seating the colourful customers at similarly coloured seats earns bonuses). You'll soon be dealing with normal customers that wait and tip normally, businesswomen that tip well but are impatient, and 'senior citizens' that are patient but don't tip great. Intentionally or not, this encourages you to think and act like a real waitress – give the most attention to people who clearly have money, see to impatient customers as quickly as you can, and ignore the pensioners unless you have nothing better to do.
Each stage has a cash target to earn and, as you progress, you'll earn respect for the 'casual gamers' who make up the majority of the Diner Dash fanbase. The only way to meet the targets in later stages is to chain actions together so that, for example, you take four orders in a row without interrupting them by clearing a table or delivering a meal. Doing so risks people becoming impatient to the point of leaving, which will cost you money that almost certainly means you won't finish the stage. Hearts can be replenished by time – consuming tasks such as providing coffee or waiting at a queue's podium. It's a fine balance you need to strike.
We found it impossible to find anybody who wanted to play online – but there is an offline 2 player mode too. This and the self explanatory 'endless' mode potentially offer replay value – so long as you don't mind juggling tasks and looking for raised hands like an actual waitress.

3/5