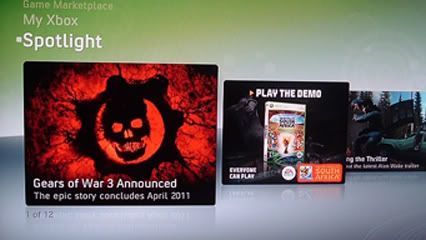 In a lovely slip up that has snatched the uncertainty away from Cliff Bleszinki's mystery unveiling next Monday on US TV, Microsoft accidentally announced Gears of War 3 on Xbox Live. That was nice of them.
As if this wasn't nice enough, MS also let it slip that the game comes out next year, stating 'The epic story concludes April 2011'.
Not a huge amount about the game is known at the moment, but Edge has uncovered some details about the third instalment. Apparently Delta squad will have explosives that can travel underground to take out enemy cover, and that some of the Locust will now have tentacle like appendages for attacking the player when they are tucked behind a wall.
Edge also says that Marcus Fenix has some new mobile cover in the form of a mech suit that can be piloted, which will feature in the singleplayer campaign, but also in multiplayer, as will the rest of the mentioned features.
Gears of War 3 is yet to be officially announced, but it is super unlikely that Microsoft would have published false information, even if they did jump the gun a bit. Is anyone else looking forward to next April then?