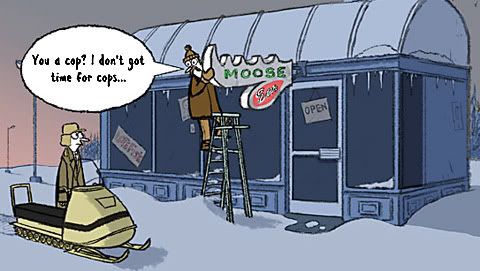 In keeping with Telltale Games' distribution method of downloadable episodic content, Nelson Tethers: Puzzle Agent, is set to steal your bandwidth later this month.
The mission of Puzzle Agent is to unravel the story of Scoggins, Minnesota, a small town featuring a very Twin Peaks style weirdness – plus Telltale's traditional comedic beats and timings. You might never find yourself laughing out loud but at the very least, you'll find yourself consistently entertained.
The game revolves around your protagonist Nelson Tethers (Lead Puzzle Researcher of the FBI). Every time he asks a question, he is answered with a different sort of puzzle. One of the puzzles on demo was arranging logs around town (on a mini-map) so that Tethers could bounce off them without fully submerging his snowmobile in countless feet of snow. Yeah. It was icy out, and the results were funny.
When puzzles were in play, there were often occasions where the user had trouble solving the problems. If this was the case, Tethers could "buy" hints, by chewing bubble gum he had collected throughout the game up until that point.
What sets this game apart from other recent Telltale adventure games was the chosen art style, developed by Canadian independent comic artist, and long time contributor to the games industry, Grahm Annable. The animation here is very distinctive, and very similar to the "squiggle vision" techniques that were oh-so popular in the early 2000's. The animation was rendered in key frames only, which was an interesting choice. It seems unnatural, and if you were to watch the trailer online, you'd wonder if your media player was malfunctioning. I assure you, however, that this technique serves a purpose, and that is making itself stand out in your mind.
Nelson Tethers: Puzzle Agent lands on the PC, Mac, iPhone and iPad platforms before the end of June.