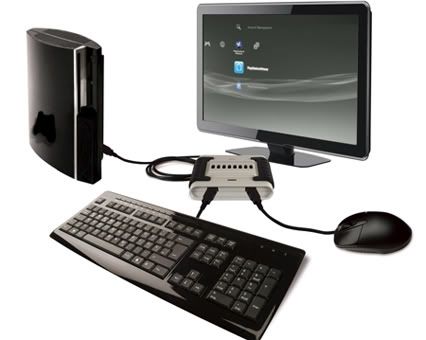 Do analogue sticks make you angry and confused? Are you unable to pull off a headshot with your thumb? Would you like to hear the satisfaction of a click instead of pulling a trigger? If this sounds like you at all, it is a bit of a mystery why you bought a PS3, but never fear as Penguin United holds the answer with Eagle Eye.
This clever bit of kit allows you to connect a mouse and keyboard up to your PS3 and lets you play your games with them; finally granting the console bound the same accuracy that PC users have been going on about in first person shooters for years.
It is quick to setup and is compatible with all standard USB HID keyboards and mice for all games. It even allows you to program a combination of controller face buttons to one key, just in case you feel like cheating to pull off combos and special moves.
"We were so excited by the response the Eagle Eye received from gamers, journalists and retailers at E3," stated Richard Huang, President of Penguin United. "The most consistent feedback we got from people was about the lack of lag time using the mouse. Everyone who tested it was amazed by how accurate and smooth the mouse works on games like Kill Zone 2 and Modern Warfare."
So if you fancy a change from your vanilla PlayStation 3 controller, why not give the Eagle Eye a go? For more information on the device you can check it out over at the Penguin United website here.