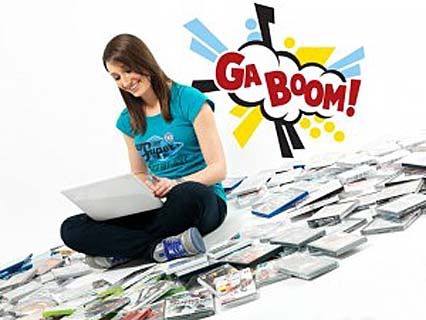 Do you have piles of neglected games lying around your house? Then GaBoom.co.uk could be the site to revitalise your collection. GaBoom is a website for gamers who wish to swap their old games for games that they want to add to their collection. All members need to do is sign up to the site, find the games they want, and add them to their wish list. Then they can list the games they wish to swap or sell. GaBoom will automatically match them with people they can swap with.
They offer three postage options, two of which are completely secure. Secure Swap, where members who have initiated a swap, post their games to GaBoom, who check each game's condition, before forwarding them on to their new owners. If one of the members fails to post their game, then the other person is refunded the cost of the service, and their game is returned.
GaBoom Escrow, has both members putting down an insurance deposit of £18, and then posting their games Recorded Delivery. Once the swap is complete both members receive their deposit in full. If one person fails to post the game, the other member receives compensation using the other person's insurance deposit.
Forum Exchange has members dealing with each other directly, and GaBoom accepts no liability for the outcome of the transaction.
The founder of the site, Jess Ratcliffe, had the idea for GaBoom when she was only 15, when she used to swap games with her friends and neighbours, and imagined it on a grander scale. Through a lot of hard work and a few setbacks along the way, GaBoom was founded on 22nd February 2010, and an open beta of the site went live in July 2010. The site has featured on the BBC tech show Click, and has managed to attract over 900 users at present. You can catch Jess at 9pm tonight (Monday 13th September) on BBC2 as she takes on the mighty Dragon's Den.