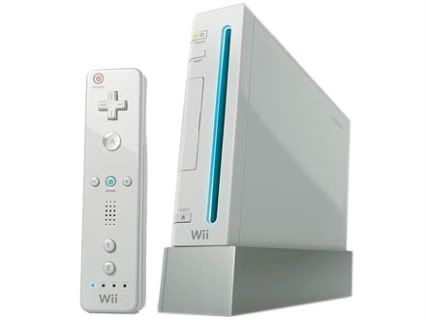 If I were to suggest that the Wii is the best console for hardcore gamers, I would be laughed off the face of the planet via 'teh internetz'. As I have no desire to ride a wave of bad spelling, questionable grammar and derogatory comments about my mother into the ether, I shall take a different tack. First of all, I'd like you to ask yourselves a question; that is, those of you who have played the Wii little or not at all and dismiss it out of hand.
What is it about the console that you hate so?
Many would immediately answer 'the lack of decent games' or 'it only does casual games'. To this dear friends I reply pish and, dare I say it, pshaw also. Mind you, I'm not going to stick my fingers in my ears and 'la la la' all day when it comes to the sheer volume of 'casual' games released for the console. If you laid one copy of every casual Wii title end to end it would stretch… well… a jolly long way. But what would you have achieved by doing so? Really? You'd just end up feeling silly, surely.
Anyhoo, people who concentrate on the tsunami of fluffy mass market titles seem to forget that the PS2 suffered from the exact same problem. No, it didn't? Yes it bloody well did. How many Spongebob, Barbie and Buzz titles do you need me to slap you with before you admit I'm right? Yes, the PS2 ended up with a much larger number of core titles, but the fact remains that it had more casual games released for it than the Wii ever will. I've alluded to the fact that the PS2 enjoyed a huge number of hardcore releases throughout its lifecycle. Why isn't this happening with Nintendo's latest console?

I imagine it's in part due to the hideous costs of making videogames nowadays. Wii games may be cheaper to make, but developing for the Wii will ultimately result in a much lower return. Multiformat titles are the way to go for third parties so far as maximum profit is concerned; is it any wonder that the Wii is usually left out of such releases? The market has now reached the point where pretty much everybody assumes that a core game will sell poorly on the Wii but even putting that to one side for a moment, there are the technological limitations to consider. Use the Wii as the lead format, and you're forced to ignore the processing power of the other machines; use anything else as the lead format, and you're then faced with the problem of how to downgrade it for the Little White Wonder and still provide a decent game.
There's another factor, I think, which nobody seems to be considering. It's important to remember that the vast majority of developers are hardcore gamers themselves – and that includes the Creative Directors and CEOs who make the big decisions (usually in conjunction with publishers, of course). A great many hardcore gamers don't give the Wii a second thought, and I can think of several developers I've met who fall into that category. So if the people making the games have no interest in the Wii…
Nonetheless, there are many great games available for the console which started the whole motion control malarkey. Okay, some of them are last-gen games with motion control tacked on, such as Resident Evil 4 and Okami. Even Twilight Princess saw a simultaneous release on the Gamecube. They're still fantastic games though, and there are plenty of other titles exclusive to the console well worth getting, often at a bargain price. Mario Kart Wii, for example. Only FIFA and Call of Duty are as addictive and rude word–inducing online.
It should surely go without saying (which, er, is why I'm saying it) that the two Mario Galaxy games are essential purchases. If you're a fan of lightgun games, I find it impossible to imagine you being disappointed with Ghost Squad; if you don't have a PC or 360, you can get season one of the new Sam & Max games. WiiWare carries, among many other gems, the two sublime LostWinds games from David Braben's Frontier Developments; Sonic creator Yuji Naka's latest game Ivy the Kiwi? is well worth a shot; plus, each and every Gamecube game for your Wii's region is fully compatible (although you'll need a Gamecube controller to play, and a Gamecube memory card to save).
This brings me neatly to the thrust of my argument. It was a struggle, but Sony and Microsoft eventually managed to convince many of us that backwards compatibility doesn't matter. Remember the early years of the current generation of consoles? Sony messed things up globally by ensuring that the 60gb version of the PS3 was fully compatible with PS2 and PS1 games… well, in the US. In the EU backwards compatibility was produced via software emulation, resulting in some games being incompatible and many featuring bugs that ranged from the hardly noticeable to the gamebreaking. Then of course they developed several new models, almost none of which offered backwards compatibility at all.
Microsoft did little better. Their backwards compatibility was also via emulation, but the games chosen to be included in the list seemed at times almost random. There was even an eventually successful campaign to get Psychonauts on said list. The updates stopped after a while, as Microsoft realised they could make money by offering Xbox games on demand via Live.
Every Wii in the world is fully backwards compatible. Cynics may sneer that this is because the Wii is little more than a Gamecube in a different case and, comparing the graphics of the two machines, it's hard to argue against this. Nonetheless backwards compatibility is an important issue for the hardcore – at least, it certainly used to be – and this is one issue where Nintendo wins hands down..
Retro games are also a core concern, with a great many of today's gamers looking back at the titles of yesterday with rose tinted specs superglued to their wrinkled old faces. Again, Nintendo has pretty much no competition here. The Virtual Console offers hundreds of retro games at (usually) reasonable prices, including a few that never made it to your region originally. Formats featured include not only the NES, SNES and N64, but also Megadrive, PC Engine, and NEOGEO. If this were available on the PS3 or 360, zealots of that format would wave it around in forums in misspelled triumph.
In fact, let's have a bit of a 'What If'. What If the 360 and PS3 both featured armies of retro titles to download, full backwards compatibility, only one version each, and an innovative control system from launch. The Wii on the other hand has been plagued by a high failure rate from the beginning, has almost no retro titles available for download, has had six different SKUs released (the main difference being hard drive size), launched at a high price thanks to the blu-ray drive, and was late to the motion control party. What would be the reasons for the hardcore dismissing it out of hand now?
I know what you're thinking (I'm going all Derren Brown on yo' ass). What am I trying to say? Is the Wii under some kind of curse? Well although I have evidence to support that theory, I'm not ready to go public yet. What I'll say instead is that Nintendo have brought this upon themselves. The Wii as a whole was a gamble that could have brought them down to a software–only company a la Sega. They decided to concentrate on the mass market, and it paid off big time – initially. The downside to this was that they alienated a huge chunk of the traditional market, and there are now signs that this may hurt them in the long term (insofar as the Wii is concerned). Whether or not that is the case, only time will tell.
Still, the Wii introduced videogames to a wider audience and made them more acceptable to mass media in a way that hadn't been achieved since the release of the PSOne. As so many used to dismiss videogames as childish and unworthy of discussion (and some still do), some gamers are dismissing the Wii in exactly the same way. Don't mimic this attitude. The Wii does have many excellent games, both old and new. Move and Kinect prove that Sony and Microsoft were suffering severe IWITOTS (I Wish I'd Thought Of That Syndrome) when they saw the Wii remote for the first time. The fact that there are still plenty of developers and publishers willing to support the Wii with 'proper' games – such as Black Ops – is evidence that the industry itself is far from giving up on the console. So I ask you again: Are you hardcore enough to defend the Wii?