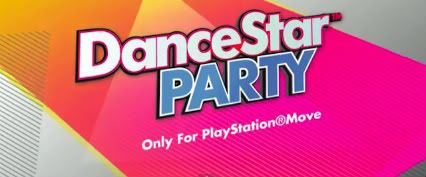 Format: PS3 (PlayStation Move required)

Unleashed: Out Now
Publisher: Sony Computer Entertainment
Developer: Sony London Studio
Players: 1-20
It had to happen, really. Having all but dominated the karaoke genre with its SingStar series, Sony's London Studio has moved into the lucrative market of games that encourage – nay, demand – people to dance at their televisions. Lacking the arguably ideal tech of Kinect, the traditional dance mat option has here been ignored in favour of PlayStation Move.
The idea of a dancing game relying on a peripheral held in one hand is rather bizarre; but that hasn't stopped a legion of games using a similar system infecting the Wii. A crucial difference here of course is the presence of the PlayStation Eye camera which, it seems safe to presume, does some of the motion tracking. Kung-Fu Live proved that it's capable of aping Kinect to a degree; and while it's hard to judge the accuracy of the motion tracking while you're busy making a prat of yourself by dancing by the window, it does seem that how close you are (or are not) sticking with the on-screen actions is monitored very well.
One of the first things which ensures DanceStar Party stands out from any other dancing game we've come across is the on-screen dancers. That's dancers as in real people. Watching a real person in the centre of the screen (in black and white, holding a Move controller for clarity) dance is much, much better than trying to copy a silhouette or CG model, as every nuance of every move is as clear as possible. The music video plays in a small box to your left (you can swap this for a stream of your performance if you really have to), and to the right static illustrations give you a warning of a second or so before each new position or dance move.
Each song has a normal and short length, and a star rating according to how much energy you'll need to put in. You can also choose from Beginner, Intermediate and Professional difficulties for each song but, frankly, if you're not going to go straight for Professional for maximum kudos/embarrassment what's the point? One and two star performance ratings ahoy, yes; but when you manage a four or even five star rating, you really feel like you damn well earned it.
While each of the 40 songs is accompanied by the official music video (with more already available in the Store), the dances – confusingly – don't always match up with the performances therein. Each of the dancers is infuratingly talented, and the dances never less than professional. While all seems as it should be for the Macarena (yes, really) and – ye gods – New Kids On The Block, the dance for 'Born This Way' by Lady Gaga (for example) doesn't seem to be what her backing dancers are doing.
The tracklist isn't a non-stop retro cheesefest; rather, there's a pleasing variety in there. Modern choons from the likes of Tinie Tempha, Jessie J, Duck Sauce, and OK Go sit alongside inoffensive disco background music like Elton John, Kool & The Gang, and SNAP! (who would have us believe that they do indeed have the power).
Naturally, you can dance with or against other people – if you have the space and the funds. The game won't even attempt to support another dancer without a second (and third, fourth etc) Move controller, which is disappointing – and potentially expensive. Apparently up to 20 players are supported. Without millions of pounds for 20 Move controllers, a huge TV and a mansion with massive rooms, we weren't able to test this out. You can't have an online danceoff, sadly, though you can – if you're confident/brave/stupid enough – upload pictures and videos of yourself to the community, or even Twitter/Facebook, for others to enjoy or laugh at and rate. The PS Eye demands very good light for a good picture, though.
You can trick the game into allowing two people to play together if you dive into the options and enable singing. Yes, you can dance and sing at the same time should you so desire; would you expect anything else from the team which brought us SingStar? Your dancing will still be rated from 0-5 stars, and your singing with a simple phrase (OK singing, Cool singing, etc). The PS Eye microphone seems to pick up your voice quite well, but you can use a microphone or headset instead if you want. Hand a microphone to a friend or loved one while you handle the dancing, and you can pretend you're some kind of hideously fascinating singing/dancing duo auditioning for Britain's Got Talent.
Dance Studio allows you to create and save your own dance routines for any songs that you have. Instead of the professional performer, you'll see your saved performance play in a box on the right of the screen. There's no attempt to create illustrations to help guide anybody trying to use your unique interpretation, but it's a neat idea – especially as it makes a decent attempt at monitoring and scoring performances.
The 'workout' is basically a predetermined set of playlists that asks for your height and weight, then gives you a figure for how many calories it reckons you've burned at the end depending on how well you did. Again, a nice idea, and a fun way to keep fit (if you like that sort of thing). 'Dance Class' is a very well done practice mode, which breaks each song down into several sections. You try each section out four times in a row at your leisure, and proves to be a very useful tool.
While there's still room for improvement, this is a dance game crammed full of features and great ideas that combine to make it the best currently available on the market. Best of all it's pretty cheap, with many online retailers selling it for less than £20. If you have Move and a penchant for dance games, this is an essential purchase.