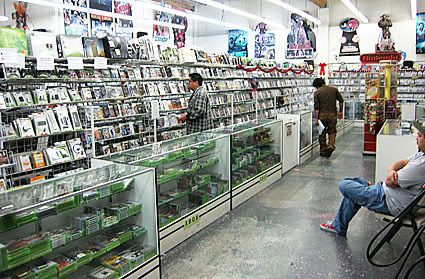 It is finally the latter half of 2009, and all signs are pointing to the beginnings of a broad economic recovery. Many businesses are starting to once again show profitable numbers, with, apparently, Canada leading the way for the G7 nations due to our supposed "consumer resiliency."
All of this news would be reassuring, of course, if not everyone around me was entirely jobless. Both friends and family– and not just drunken cousins, but honest, hard working folk like my parents, as well.
Having some time to observe this phenomena like I have, you quickly see the disparity between both age groups affected by these losses. On one hand, my parents, who separated some time ago now, seem to be living in fear because this is the first time in 15-odd years that either of them has been jobless. Employment Insurance (E.I.), Canada's particular brand of unemployment benefits, to summarise, allows for roughly two-thirds of your previous monthly income. Considering people in this age group seem to have banked on the idea of always having a full-time job, their bills will now outweigh their means. For my parents, the job search begins immediately.
The other side of the story substitutes fear and paranoia for beer, hula skirts, and wireless joypads.
Everyone I have pursued a meaningful relationship with my entire life has never been older than 30. For the most part, very few of them have had a sexual relationship that would be classified by themselves as more than "fun." We're young, unsettled, and still willing to cause a fuss.
As embarrassing as it can be to admit, it is time to man up: our age group is afforded such a tailored lifestyle because of the bricks and mortar bedded by our parents and the people before them. They created a stable time for us to live in and we have every intention of stepping up to the plate and taking the bat you just loaded the bases with. We are just as brave as we are educated. We will take to bat and knock it out of the park.
But right now, we're still busy in the dugout warming up.
So how are the young and recently unemployed handling their free time? Well, I can assure you that many of them are not on the lookout for future employment. Many of them seem content with accepting E.I. and treating the situation as if it were a paid vacation.
I am pleased to announce that it isn't all booze, sex, and rock and roll for these new-to-the-world post-college graduates. Some of them thought it rational to be doing something productive with their free time. One of them has begun to illustrate his own comic series which he intends to self-publish (with my money). Another has decided to utilise the internet for making a short, to the point sitcom with television-like production values. These are two very specific examples of people taking advantage of their time in a way society would deem acceptable. They are making their creativity shine in the one moment our go-go culture may ever afford them to sit and breathe.
Then there are the rest of them; the men who never quite grew up. The men that had just finished up post-secondary a year or two prior and seem to be having trouble making the distinction between being a child, and the real world. These people, of course, are the gamers. Both hardcore, and the rest of them.
Take John, for example. John is a 20 year old hardcore gamer who was lucky enough to get laid off right around the time Halo Wars was released. Honestly surprised that he had lost his job, John asked if he could move into my apartment, and I opened my door wide.
Everyday around 9:00 am I would make haste for work, leaving my room key with John just in case he dared venture into the land of the living. Every night I would come home and see him sitting exactly where he was when I had left. Parked exactly 2 and a half feet from his Xbox 360 and his 20″ display on a very, very uncomfortable computer chair. Every day I would ask him if he went anywhere exciting, and every day he muttered the same response. "Meh." Taking leave of the living room to fix myself some cold cereal, I would hear in a low tone from the room to my left mumble "But I beat Conan and Dark Sector for you today."
Thanks, old chum.
And then there is Steve. Despite Steve being a good, close friend, I have no idea what he majored in. I think it was drama, or something like that, but I'll never be sure no matter how many times he tells me. Steve is considered what we now feel comfortable calling "casual." He plays games and keeps halfway up to date with the big news stories, but only buys a title once every couple of months or so. He finds games he can co-op with anyone who happens to come over, and he loves to share gaming experiences with his devastatingly gorgeous girlfriend.
In late August, he received the dreadful message that he too would be joining the ranks of those with no professional title. Less than disheartened by the news, Steve, after an electric play through of Viva Pinata, decided to scroll through his friends list on Xbox Live to see if his Achievement score ranked higher than anyone else's for this game. He wanted to know if he could dig holes better, or some shit. Well, turns out no one else had that title on their games played list. What he did begin to notice, was a startling amount of people that had recently picked up Assassin's Creed II, a game notable for its length and being a item collector's wet dream.
25 hours and no side quests later, Steve decided to move onto Fallout 3, while trudging through more and more of Borderlands with a couple buddies and myself every available night. Hell, at this rate and if the stars align, maybe he'll even grab himself a copy of Dragon Age: Origins!
I'm not going to hold my breath.
For both examples, it really isn't any surprise that both my family and my friends are unemployed. Both demographics suffer, or differing on perspective, benefit from having nothing but bills to tie them down. My parents are both single and without children needing care, and my peers are also unwed so their only real tie-ups are rent, booze, and games. Luckily, youth can tolerate cheap liquor.
The case has proven truer and truer through the course of history: entertainment will always sell, and people are looking for the best way to stretch their dollars in the midst of an economic recovery period. Movies are $10 for 2 hours, booze comes and goes more quickly than we like, but video games are by far the greatest way to stretch a buck, especially if you're willing to play some older titles you might have missed on originally.
Times are tough, but getting better. As the days go on and their stints of E.I. run dry, both seasoned gamers and the mainstream will wean themselves from their couches, put on pants, and reconcile with their loved ones.
Has the economic crunch hurt you or people you care about in anyway? We here at Critical Gamer are shaking in our seats yearning to find out! Give us a shout back in the comments field below.