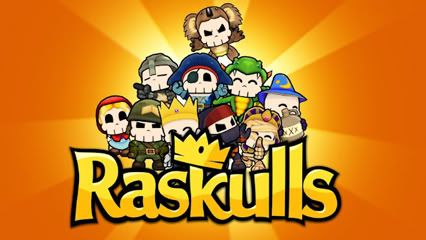 Sandwiched between Crackdown 2 and a circus of high-profile XBLA titles, Raskulls was a diamond in the rough at PAX East. I blame the game's nonexistent line on poor positioning because it was actually pretty cool.
Raskulls is Mr. Driller meets Mario Kart, with four players digging their way through a colorful environment in an attempt to cross the finish line first. Each track is designed with a mix of blocks to dig through, weapons to collect, and "frenzy jars" that add some juice to your boosting ability. Halfbrick's goal, it seems, is to create the atmosphere of a hectic kart racer in a 2D platformer. What's so clever about this is that Raskulls is designed with natural rubber-banding – players who lag behind can opt to follow their opponent's pre-dug paths and catch up. At the same time, the selection of weapons allow smart players to trap their opponents before they can take the lead.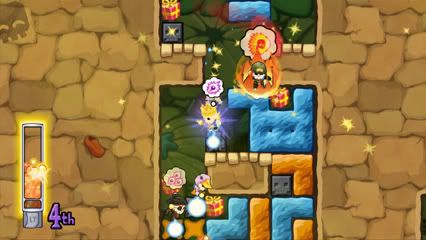 With clever use of the game's weapons you can force players into crushing themselves or fake them out for a last-second victory. Some finish lines are designed for upsets, with a strip of the goal line floating along the ceiling, allowing skilled players to finish early by bounding off of opponent's heads.
Weapons include lock-on lightning, a ghost move that lets players occupy the same space as their opponents, and a short-range laser attack for knocking enemies into traps. The characters themselves are customizable, allowing you to unlock new accessories for them to wear. Along with the selection of cute, skull-headed racers, fans of gaming site Destructoid will be happy to see that the site's mascot is also included.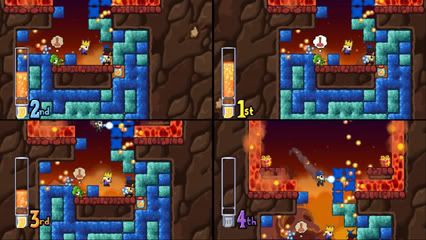 Beyond 4-player races (local or online), the game also offers an extensive adventure mode in the style of Super Mario World. A world map allows you to move from level to level, with each one reflecting the gameplay of the multiplayer races, but adding a unique twist here and there. In the level I played, I had to chase two rats and knock coins out of them. The goal was to earn 20 coins before the finish line. Challenges like this will support leaderboards, allowing you to compete with your friends on levels Halfbrick has selected as the most competitive.
With the XBLA price point ($10-$15 most likely) and a release within the next few months, Raskulls is shaping up to be a solid buy. The focus on party-style multiplayer mixed with adorable characters evokes memories of Bomberman and Worms, and Raskulls may actually live up to that.