Format:

Xbox Live (version reviewed), PSN

Unleashed:

Out Now

Publisher:

Ubisoft

Developer:

Ubisoft Montreal

Players:

1 (2-4 Local)
Chances are that within the last two weeks or so you will have at least heard of Scott Pilgrim. Along with being a very successful graphic novel series by Bryan Lee O'Malley, which reached its final volume earlier this year, it is also a recently released movie and retro style Xbox Live/PSN arcade game.
The three are somewhat separate entities but are linked by the same core story. Scott Pilgrim is a bass player in a terrible band who falls in love with Ramona Flowers. In order to successfully date her, he must defeat her seven evil ex-boyfriends. It's lucky then, that Scott happens to be the best fighter in the province.
Playing like classics such as Streets of Rage and Double Dragon, Scott Pilgrim VS The World: The Game, besides being a mouthful of a game title, is a 2D pixel-laden, button bashing, punch-throwing extravaganza across seven levels presented to the player on a world map parodying Super Mario 3. The choice to go retro is one which will appeal to fans of O'Malley's comics and those of a certain age looking for some nostalgia. It is also safe to say that the comics have far more influence on the game (art style, content, look and feel) than the movie, which may also appeal more to fans.
There is a fairly simple levelling system in place up to a maximum of Lv16 to unlock new techniques for each of the four playable characters (Scott, Ramona, Stephen Stills and Kim), plus unlockable characters and game modes (Boss Rush and Survival Horror). You can also spend money dropped from enemies and bosses on healing items and items which permanently upgrade statistics such as strength and defence that carry over across the three difficulties available.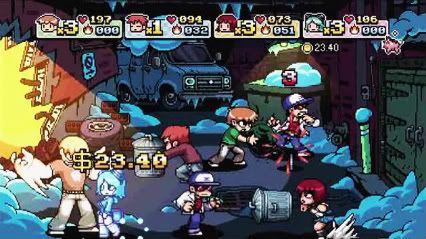 While the game can be played by up to four people, it is local co-op only. Why Ubisoft would neglect online functionality is a mystery and a foolish mistake. It is sometimes not convenient or desirable to have four people sharing a couch. There is also no drop-in, drop-out feature even if playing locally with other people. This game is nowhere near as fun when playing alone and it is also considerably harder thanks to enemies that aren't shy about rushing in to attack you. Even AI support would have been an improvement. Team attacks (activated by simultaneous taunts) are also denied when playing alone.
One last truly stand out feature of this game is the soundtrack, provided by the 8-bit rockers Anamanguchi. Their retro style fits the game perfectly with many tracks you will love to hear as you bash your way through waves of enemies. The soundtrack is almost worth the price of admission alone, which is admittedly a bit high for the game.
You can pick up Scott Pilgrim VS The World: The Game for 800 MS points or £7.99 on PSN and a demo is also available to try before you buy. It's worth checking out for some old school nostalgia or if you simply like the brawler genre. Should a patch add online co-op in the near future then add an extra point to the final score.

4/5