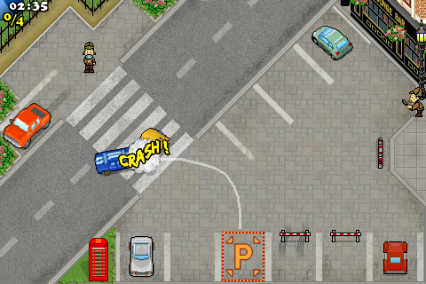 Draw Parking, a game by Konami Digital Entertainment, has been confirmed as now available for download on Apples App Store for iPhone and iPod Touch.
Draw Parking delivers challenging puzzle gaming, where players race against the clock to successfully park all the cars.
Gamers must test their parking dexterity and prowess by drawing the orderly and efficient path from their car to an available parking spot, all while dodging obstacles and interference's like inconsiderate passers-by and other cars.
While Draw Parking sounds easy enough on paper, challenge will build as you use an innovative multi-touch interface while at the same time you navigate 20 different vehicle styles. Draw Parking has 30 unique levels spanning across Europe, Asia and the North America.
If your looking to hit the highscore on the leaderboards, you are going to have to be meticulous as points are awarded for speed and tidiness; but you progress levels the user will be met with increased difficulty and additional road hazards, so dexterity and skill are the key to this game.
Draw Parking is available now on Apples App Store for $0.99 for the iPhone/Touch.