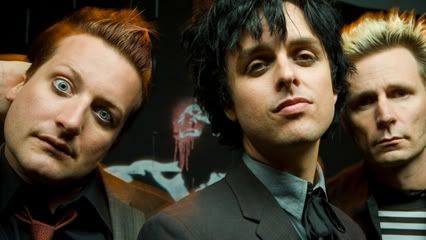 After reinventing The Beatles as video game cash cows, Harmonix have now set their goals to perform a similar feat with MTV pop punk deities Green Day. Black shirt and red tie-wearing fans the world over will be excited to know that the final tracklist to Green Day: Rock Band has now been announced. The choices are for the most part fairly obvious, featuring the band's two most popular albums in their entirety: 1994's "Dookie" and 2004's "American Idiot".
It's no wonder that they have decided on going with the more popular choices,  but it could possibly alienate some of the more hardcore fans who would probably see more additions taken from "Insomniac" and "Nimrod". Not to mention that the band's two first albums "39/Smooth" and "Kerplunk" have been completely ignored. Presumably these gaps will be filled in with later DLC, in the same way that half of the songs from the band's latest album "21st Century Breakdown" will be on the game's release day.
Tracklist:
21st Century Breakdown
¿Viva La Gloria? (Little Girl)
American Eulogy
American Idiot
Are We the Waiting
Basket Case
Before the Lobotomy
Boulevard of Broken Dreams
Brain Stew
Burnout
Chump
Coming Clean
Emenius Sleepus
Extraordinary Girl
F.O.D.
Geek Stink Breath
Give Me Novacaine
Good Riddance (Time of Your Life)
Having a Blast
Hitchin' a Ride
Holiday
Homecoming
Horseshoes and Handgrenades
In the End
Jaded
Jesus of Suburbia
Last Night on Earth
Letterbomb
Longview
Minority
Murder City
Nice Guys Finish Last
Peacemaker
Pulling Teeth
Restless Heart Syndrome
Sassafrass Roots
See the Light
She
She's a Rebel
Song of the Century
St. Jimmy
The Static Age
Wake Me Up When September Ends
Warning
Welcome to Paradise
Whatsername
When I Come Around
Confirmed DLC:
21 Guns
¡Viva La Gloria!
Christian's Inferno
East Jesus Nowhere
Know Your Enemy
Last of the American Girls